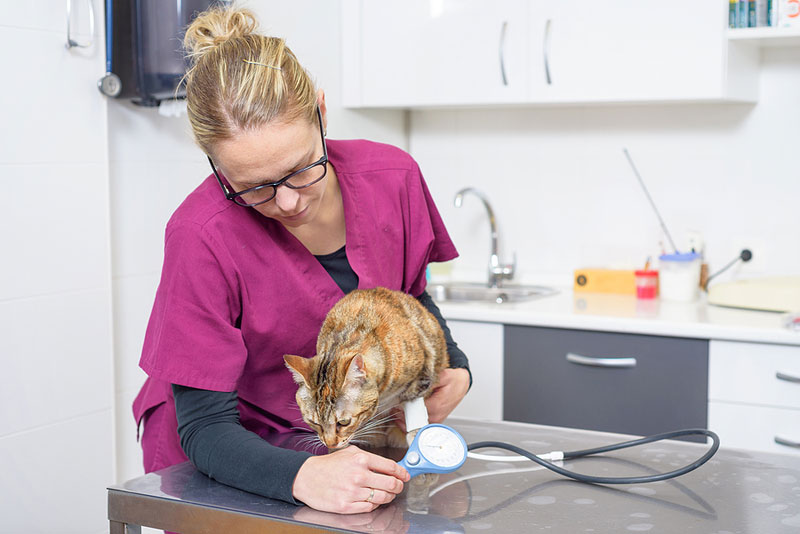 Arming veterinarians with the tools needed for early detection of feline hypertension is the goal of a newly published industry resource.
The American Association of Feline Practitioners (AAFP) has released the Hypertension Educational Toolkit, a digital offering that emphasizes the importance of routinely checking the blood pressure of feline patients to aid in the timely diagnosis of systemic atrial hypertension.
While veterinary professionals are advised to use the information in the kit when examining feline patients at any age, it is particularly beneficial for cats older than 10 years, AAFP says.
"Assessing blood pressure in the feline species is an important part of feline preventive care, yet it is uncommon for practices to routinely perform this test," says Kelly St. Denis, M.Sc., DVM, DABVP (feline), chair of the resource's task force. "This toolkit provides a quick, go-to reference that will help veterinary professionals overcome the difficulties and obstacles associated with assessing blood pressure in cats."
For easy reference, the kit organizes information in sectioned tabs (e.g. regulation, classifications, clinical signs, treatment, measuring blood pressure, etc.). It also offers a downloadable blood pressure assessment form, as well as information on cuff selection and placement, tips for successful blood pressure management, and recommendations for taking measurements.
"With its user-friendly format, veterinary professionals can quickly learn how to perform a cat-friendly blood pressure assessment, how to interpret the numbers, and how to treat hypertensive cats," Dr. St. Denis says.
To access the kit, click here.