Follow Veterinary Practice News on Twitter at @vetpetnews.
Travel Service Opportunities
World Vets
Home base: Deer Park, Wash.
Selected upcoming trips: Loreto, Baja California, Mexico, May 31-June 7; Belize in Summer '08; Ecuador from Nov. 3-12; Gambia in winter '08-'09.
Contact: info@worldvets.org, 509-276-8387
More info: www.worldvets.org
Spay Panama
Home base: Bethania, Panama, and Miami
Selected upcoming trips: Unavailable
Contact: doctor@spaypanama.org, 507-261.5542
More info: www.spaypanama.org
Christian Veterinary Mission
Home base: Seattle
Selected upcoming trips: India from Aug. 6-15, Pakistan in November, Mongolia (ongoing).
Contact: info@cvmusa.org, 206-546-7569
More info: www.cvmusa.org
Animal Balance
Home base: San Francisco
Selected upcoming trips: Galapagos Islands in September, Samoa (tentative – date TBA)
Contact: volunteer@animalbalance.org
More info: www.animalbalance.net
For Susan Paseman, the idea began in Cozumel, the Mexican island that boasts the kind of tourist-friendly resort experience Paseman used to find a lot more attractive than she does today.
"Now when I go on vacation, I don't want to just say I sat on the beach or I lay by the pool," says Paseman, a veterinary assistant at Hometown Animal Hospital in Deer Park, Wash., and co-founder of the nonprofit service organization World Vets.
"I'll never travel as a tourist again."
It was on Cozumel seven years ago that Paseman and other visiting veterinary professionals encountered large numbers of sick and starving stray dogs that clearly needed help. The travelers couldn't just sit by, so they launched an impromptu emergency effort.
"It turned out the volunteer work was the best part of the trip," recalls Cathy King, DVM, Ph.D., Paseman's boss at the animal hospital and partner with World Vets.
Now international nonprofit service work is an integral part of their lives, as it is for a host of other veterinary professionals who regularly turn vacation travel into a transformative experience.
Nonprofit organizations such as World Vets, Spay Panama, Christian Veterinary Mission and Animal Balance offer veterinary volunteers a chance to visit an exotic locale with instant acceptance that reflects the strength of their commitment rather than the depth of their wallets.
From Mongolia to India, Uganda to the Galapagos, volunteers are paying for the privilege to do often achingly hard work in MASH-unit conditions. Then, when the week or more is done, many make plans to return.
The rewards are profound, they say.
"First, it's being able to help animals that really have no care at all, that are starving, eating off the streets," Dr. King says. "Plus, it's a true cultural experience. It's wonderful to work with veterinarians from other places, other countries. It's amazing."
The memories are indelible. On one project, King, Paseman and others teamed with Spay Panama, a 7-year-old nonprofit that's helping to control the overpopulation of dogs and cats in the Central American nation.
One night, the group loaded up a little wooden boat with everything from veterinary supplies to cat traps to portable surgery tables. They crossed to a tiny island, where they performed a surgery blitz all the next day. The visitors worked with five Panamanian veterinarians who spoke little to no English, but problems of communication seemed trivial, given the circumstances.
During the weeklong stay, accommodations changed almost nightly. Several volunteers slept in a veterinary clinic; a few others stayed in a bamboo house that extended over the water; one night, the visitors bunked in a Red Cross shelter.
By the end of the week, the group had sterilized 189 animals in four locations. Sometimes dogs and cats arrived in wheelbarrows, other times traps were set and animals rescued.
The sense of teamwork that developed coupled with the gratitude of the local residents empowered everyone involved, King says.
"It was a huge deal for the Panamanians to think that people would fly in from other countries to help them with their cause."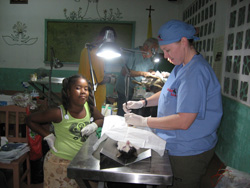 Travel that includes service work is an integral part of the lives of the founders of World Vets. Here, a group visiting Panama gets ready to embark on a surgery blitz. (Photos courtesy of Spay Panama/World Vets)
Kit Flowers, DVM, has seen similar relationships develop on projects in places such as Mongolia and Uganda. Flowers is executive director of Christian Veterinary Mission, which features 32 full-time veterinarians working in 13 nations, but it also offers short-term self-funded opportunities.
"We have a pool of about 800 people in our data base, and many of them are the most amazing folks," Dr. Flowers says. "Some have been on 10 or more trips."
For equine practitioners, one of the most popular destinations is Mongolia, where racing is a part of the culture, but horses have paid the price for grueling endurance tests across the unforgiving steppes.
Over the years, CVM volunteers have made great strides in educating local horsemen about the need for proper care and hydration, Dr. Flowers says.
"Previously it wasn't unusual for more than 20 horses to die at the end of a race, he notes. "We still lose an occasional horse, but it's nothing like it used to be."
Last year alone, 265 people–veterinarians, technicians, students and others–participated in 80 CVM short-term projects around the globe and throughout the year. And the requests for help just keep coming.
"There are so many needs, which are met by people who have the heart to serve," Flowers says. "It's a great combination. Rarely do we have someone come back dissatisfied with the experience."
One way to help keep things positive is to inject some play time alongside the hard work. So World Vets travelers to Ecuador might take a whitewater rafting trip when they aren't doing clinic work. In Mexico and Panama, scuba diving can be arranged.
Attention is also paid to the quality of accommodations, which are usually in vacation rental houses and are free to veterinarians, Flowers says.
"We don't want them on the floor of a mud hut."
Still, no one arrives expecting to stay at a five-star resort. Visit an equatorial outpost and one thing is for sure: There will be mud.
There also may be experiences that transcend anything that has ever been captured in a vacation brochure.
For Paseman and others, it's all about new priorities.
"Now when I travel, I want to do something important while I'm there," she says, "and I want to leave something of myself behind when I go."
Want more Veterinary Practice News? Go here.