A pair of jaguars at the Akron, Ohio, zoo produced a litter of three cubs in 2005, one more than the mother could care for. So Gary Riggs, DVM, Dipl. ABVP, the zoo's director of veterinary services, took home the rejected baby.
He and his wife, Denise, hand-raised the tiny jaguar, getting up for middle-of-the-night feedings and checking on it pretty much around the clock. At 6 months old, the cub, named Maya, returned to the 50-acre zoo, eventually landing at the San Antonio Zoo.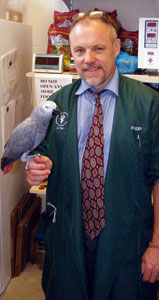 Dr. Riggs with an avian patient.
That would be the end of the story, except it wasn't. Dr. Riggs, 53, had been at the Akron Zoological Park for more than 20 years as it grew from a handful of mostly North American exhibits to more than 800 North American and exotic animals. Long interested in animal conservation, Riggs found himself profoundly touched by having cared for Maya so closely. He and Denise wanted to do something more.
So in 2006, working with a handful of volunteers, the Riggs' started the non-profit organization Wild4Ever, a wildlife conservation foundation dedicated to preserving animals both domestically and worldwide. The foundation's logo is a jaguar, partly because of the connection to Maya and partly because the animal represents Wild4Ever's philosophy: Keep it simple, and help save as much as possible.
"If you're able to save the top predator, you save all the animals underneath them," Riggs says. "A jaguar has a five-mile range, so to save them, you have to save what they eat, and what those animals eat. It trickles down all the way; you save the whole ecosystem."
Early Lessons
Riggs didn't set out to become an exotic-animal specialist. Shortly after graduating from veterinary school at Ohio State University, he was working in an Akron emergency room one weekend when a client brought in a bird that Riggs felt ill-equipped to deal with. To obtain training, he observed at an exotics clinic in Chicago, and slowly he started treating more exotic pets. This led, in the early '80s, to the then-tiny Akron Zoo's asking him to develop its veterinary program.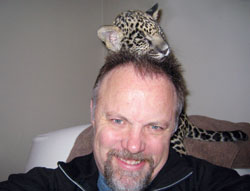 Dr. Riggs with Maya.
"They felt it would take about an hour a week," he says. Today, he and three other vets staff it seven days a week.
Working at the zoo exposed him to animals and conservation efforts from all over the world, which has helped Wild4Ever choose its projects. Rather than initiate international projects, the group looks for small, perhaps underfunded, efforts that can have a big effect for relatively little cash.
"We felt we could pinpoint some smaller projects that are already doing a great job, especially projects where there is a human component, where the people in contact with (the endangered species) are also being helped," Riggs says. "We don't want to go in and tell the locals what to do and then leave."
A project to save rare white-wing wood ducks in Cambodia is a good example. Working with the Cambodian government, Akron Zoological Park, the Wildlife Conservation Society and others, Wild4Ever is working to protect remote northern wetlands.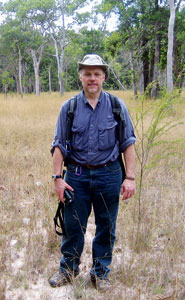 Dr. Riggs in Cambodia.
Riggs visited Cambodia in 2008 to help search for the ducks' nests. The partner groups have since moved a bridge and a road to protect a nesting area. Villagers are paid to watch and protect the ducks, and the groups are working to build duck blinds that would create ecotourism jobs for locals. A relatively small investment, $100 for one villager for a year, is enough to make a difference, Riggs says.
The same model—helping people, not just wildlife—has been used elsewhere. In Indonesia, Wild4Ever has supported a project that provides dental and health care to locals in exchange for promises not to destroy forest habitats. In Uganda, Wild4Ever helps preserve mountain gorillas by funding a group that is developing a more efficient wood stove.
"Instead of just preaching, 'You shouldn't cut down the forest,' we teach people to build a better stove that uses less wood and how to plant trees that grow fast," Riggs says. "That saves thousands of acres (for the gorillas)."
Closer to Home
Wild4Ever raises money through events like walkathons and bowlathons. It also accepts donations and sells branded merchandise on its website. This year, the group turned its sights closer to home, supporting scholarships for local conservation research and helping preserve habitats for raptors and other creatures.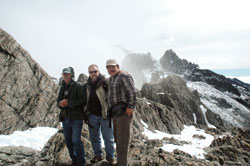 Dr. Riggs in the mountains of Venezuela.
Riggs maintains that Wild4Ever's goals are modest; there are no dreams of it becoming the next World Wildlife Fund. (The foundation last year contributed about $35,000 to various projects, plus some in-kind veterinary services.)
Linda Criss, vice president of marketing at Akron Zoological Park and a founding member of the foundation's board, says Wild4Ever is having a big impact and helping to produce a legacy.
"All these years Gary has worked for wildlife and put his heart and soul into caring for animals, and this is really just his way of giving back," Criss says. "It's like the exclamation point on a long career of commitment to wildlife and preservation." <HOME>
This article first appeared in the September 2009 issue of Veterinary Practice News
*Photos courtesy of Dr. Gary Riggs