The Reality of Veterinary Surgery Ergonomics
Listening and Responding to Pain Could Increase Job Satisfaction
One of the greatest challenges of Work-Related Musculo-Skeletal Disorders (WRMSD) is that they can come on slowly. They can be easy to ignore initially. The American Veterinary Medical Association (AVMA) issued ergonomic guidelines to help veterinarians catch problems early.
A surprising finding in a study Sara White of the Spay ASAP Inc., in Hartland, VT, published found that almost all surgeons (99.1%) reported at least some pain connected to conducting surgery.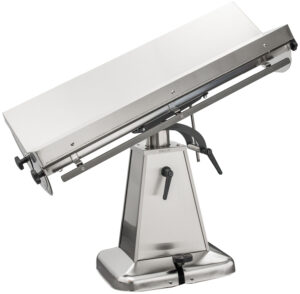 Ergonomics is the science and study of work. The goal of leaning into the AVMA recommendations is to create a better working environment. When hospitals design for better flow, equipment and processes, the ergonomic changes can help improve not just their work but also staff morale and wellness.
Designing for a safter work environment starts with understanding the potential hazards. The AVMA guidelines outline the following risk factors:
Awkward postures
High hand force
Highly repetitive motion
Repeated impact
Heavy, frequent or awkward lifting
Moderate to high hand-arm vibration
Studies tend to highlight the same type of injuries. A German study of veterinarians also reported neck (66%) and shoulder (60.5%) pain, and those were more prevalent than hand pain (34.5%).
What Changes Can You Make?
There are three parts to improving. First, be aware of what you are doing. Work with your team and help each other identify when you are lifting, reaching or twisting when there is a better alternative.
Second, troubleshoot where equipment takes away some of the burden. Is your surgery table adjustable? Will it tilt where you like to conduct common surgeries?
Modern veterinary equipment effort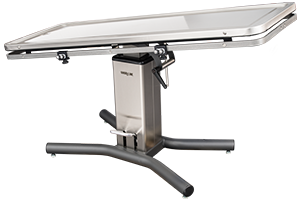 lessly moves to various positions. This makes it easy to adjust to the range of surgeon sizes and needs. If you have an older table, it might be time to upgrade.
Sometimes it helps to think through different surgeries to consider the ones that leave you or staff members in pain. What action was triggering the pain? How were you positioned when the pain occurred? Bending and twisting without good posture is a fairly common problem.
Look for the maximum ability to adjust the table or your positioning. You will want everyone to be able to make adjustments, so be sure to cross-train.
Third, what other tables can help you during surgery? Utility and Mayo tables can help. Adjust them to the correct height so you and your staff can move items from the table to your hand.
Neck and Spine Positioning
Maintaining a neutral spine position is one of the most important things surgeons can do to limit neck and back pain.
A study of New Zealand veterinarians by Andrew M. Scuffman, et al, surveyed 867 veterinarians about the prevalence or absence of musculo-skeletal disorders (MSD). The prevalence (96%) was similar to what Sara White published. In this study, lower back pain was the body site most reported for pain (73%).
For this reason, remember that even non-sterile procedures in the treatment area can put you or your staff in awkward positions, especially with smaller animals.
Low Stress Options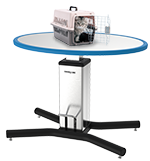 One of the newest low-stress treatment area options is the Feline LS Exam Table. It has an oval table surface, and the lift can raise and lower the table easily.
Treatment for cats and smaller dogs benefit from good positioning. Being able to step up to the table makes it easier for staff.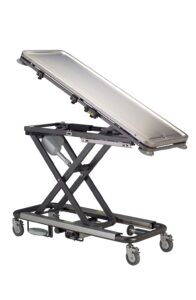 One of the AVMA's suggestions for reducing risk suggests "a practice may purchase lift tables to reduce the exposure to injury with lifting larger or heavy pets."
Mobile tables, such as the Mobile Animal Lift Table (MALT) or the Co-Jack Multi-Purpose Table, make moving heavier animals easier. These tables adjust down to near floor level and then raise to counter height with restraints to protect the pet during transport.
Options Exist
The message to veterinarians and staff is that there are options to living with work-related musculo-skeletal disorders. Identify which pain points you want to tackle and make this the year you invest in solutions.