Telemedicine's role in patient well-being
by samantha_ashenhurst | July 18, 2022 3:56 pm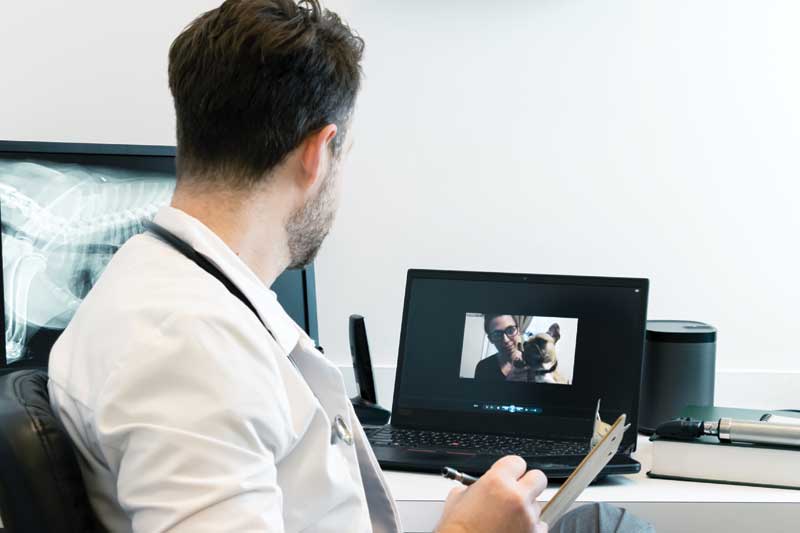 Telehealth has certainly been on the rise amidst the pandemic and the corresponding global spike in pet ownership. For many clinics, this service has been integral in helping to bridge a substantial gap in veterinary care. Indeed, the shortage of veterinary personnel across Canada and beyond has left many pets at risk of not receiving regular wellness checks. Numerous contributing factors have left the veterinary community at high risk of burnout.
In a previously published article in Veterinary Practice News Canada[2], I discussed the basics of telehealth and the advantages this service can offer patients. As we become more familiar with the virtual world, it is important to also discuss the ways virtual care can be implemented into the daily lives of practicing veterinary professionals—and, importantly, how this service can increase the quality of patient care and also alleviate stress placed on clinics.
Considerations
The veterinary-client-patient relationship (VCPR) is a key aspect in the practice of animal medicine and must be in place for a veterinarian to properly assess, diagnose, and treat a pet.
As more and more clinics utilize telemedicine, it is important to remember the VCPR plays a big part in what veterinary professionals are permitted to do remotely—especially when connecting with a prospective client for the first time. Veterinary regulations and policies regarding the practice of telemedicine vary from province to province. The details of these rules often go beyond the establishment of a VCPR and may even include remote prescribing.
With a valid VCPR, telemedicine can be used as an adjunct service, provided a veterinarian continues to have a sound understanding of the health and well-being of a patient. Professional judgment will, of course, always play a role in the offering of this service. Telemedicine is not a replacement for a physical exam, but it can be a very helpful tool for providing more touch points with clients and, ultimately, increasing the quality of care for patients. The service also offers an additional avenue for revenue to help boost the bottom line.
Importantly, virtual care provides flexibility for team members. While many aspects of the animal health industry are resistant to change, adopting telemedicine and telehealth services is something that can be done gradually to help ease the transition.
Tips for success
There are several specific ways virtual care can be implemented within a practice to help optimize patient care and also decrease risk of veterinary burnout. What follows are several tips for where clinics can begin when introducing this offering.
1) Start performing administrative tasks (i.e. client communication, reminders, etc.) remotely. There are many platforms available to help streamline these duties in a secure manner.
2) Leverage credible online resources where clients can learn more about pet health. Link these on your practice's website.
3) Offer remote positions for staff:
Remote veterinary office assistants (VOAs) can tackle calls, emails, messages, reminders, and more. This may include redirecting clients to schedule appropriate virtual visits.
Remote technologists can triage calls, help with appointment bookings, discuss pre-surgical appointments with owners, and do call-backs for appointments from the previous day.
Remote veterinarians can take care of follow ups regarding lab work, prescription refills, and field any DVM-specific phone calls on top of seeing scheduled virtual appointments.
This type of delegation allows client-facing staff to focus on their in-clinic patients without worrying about juggling additional tasks in between. As an added bonus, many virtual care platforms allow veterinarians and practice managers to remain in contact with team members throughout the day, even when working remotely. Indeed, cloud-based software systems are an increasingly popular option in helping practice teams stay connected when performing duties off-site.
Improved care for all
Virtual care not only provides more touch points with clients, but also increases the quality of patient care.
Leveraging technology can help combat the veterinary accessibility issue we are all facing and also allow the veterinary team flexibility with their roles and responsibilities around the clinic. This, ultimately, helps retain staff and improve another important issue in our industry: burnout.
Steve Boyer, DVM, is a practicing small animal veterinarian, as well as co-founder and chief veterinary officer at Vetsie. He is passionate about modernizing the typical veterinary experience and improving accessibility for pet owners.
Endnotes:
[Image]: https://www.veterinarypracticenews.com/wp-content/uploads/2022/07/GettyImages-1392643947.jpg
previously published article in Veterinary Practice News Canada: https://veterinarypracticenews.ca/virtual-care-covid-and-vet-meds-future
Source URL: https://www.veterinarypracticenews.ca/telemedicines-role-in-patient-well-being/
---