Southern Veterinary Partners awards scholarships to three LMU students
December 19, 2018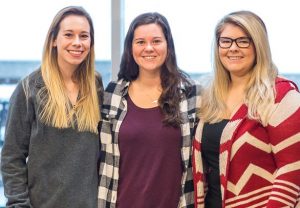 Three students from the Lincoln Memorial University College of Veterinary Medicine (LMU-CVM)[1] have each received a $25,000 scholarship directed toward their tuition.
The prize comes from animal hospital network Southern Veterinary Partners (SVP)[2] as part of its inaugural SVP LMU-CVM Student Clinical Year Awards. The selected winners are a trio of third-year veterinary students scheduled to graduate in 2020: Shelby Miller, Caroline Dewey, and Melissa Frick.
"We look forward to developing relationships with these students during their veterinary education," said Jane White, DVM, director of university relations at SVP.
"Upon graduation, SVP will welcome them into our hospitals as team members where they will find a work family they will love and a community where they can flourish."
In the fall of 2018, SVP and LMU-CVM entered into a partnership to create the award and provide financial support to select veterinary students, aiming to lessen their debt and create a path for employment following graduation.
"By helping to remove the stress of veterinary school debt, we hope to allow them to completely focus on their patients and clients and enjoy life outside of work," said Jay Price, BS, DVM, chief executive officer of SVP.
"I am thrilled to provide this opportunity to these hardworking students."
Endnotes:
Lincoln Memorial University College of Veterinary Medicine (LMU-CVM): https://www.lmunet.edu/academics/schools/college-of-veterinary-medicine
Southern Veterinary Partners (SVP): https://southernvetpartnersllc.com/
Source URL: https://www.veterinarypracticenews.ca/svp-provides-scholarships-for-three-lmu-students/
---