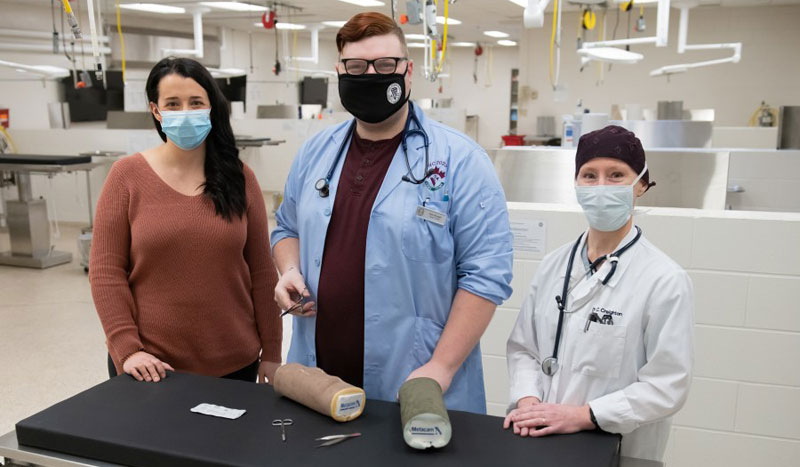 Ensuring the continued delivery of safe, sterile surgeries is the driving force behind a recent donation to the University of Prince Edward Island (UPEI) Atlantic Veterinary College (AVC).
Boehringer Ingelheim has gifted DASIE (dog abdominal surrogate for instructional exercise) surgical models in support of the hands-on technical training of second-year students.
The models are helpful in teaching the basic principles of sterile techniques, tissue handling, suturing, and abdominal surgery methods, says Melissa Hamel, RVT, a teaching lab technician of preclinical skills labs for AVC students in their first, second, and third years.
"[It] is a hollow cylinder made of various layers of laminated foam rubber, which are designed to be cut, handled, and sutured individually, much like skin, subcutaneous tissue, and the various layers of the abdominal wall," she explains. "Red strings within the subcutaneous layer simulate blood vessels that are transected by an incision. These 'vessels' can be grasped with hemostatic forceps and closed off. A foam 'intestine' is contained within each model. The intestinal tube can be cut and sutured or completely transected and reattached to model urogenital or gastrointestinal surgery."
Importantly, the surgical models let students practice techniques and become more confident in their skills, says Cate Creighton, DVM, M.Sc., Dipl.ACVAA, an associate professor of anesthesia and analgesia.
"The DASIEs allow students to practice their skills outside of scheduled teaching time, which noticeably improves these fundamental skills," she says.
"The DASIEs are great for our education, as this year is really the beginning of the technical training we need to work in clinics," adds Joey Buzzell, president of AVC's class of 2023. "Until now, we have been learning mostly foundational knowledge-based material. This semester, we really get to hone our skills and develop into the young veterinarians we all hope to be."
This is the ninth year Boehringer Ingelheim has donated surgical models and other learning tools for the use of students at veterinary colleges across Canada, including AVC.