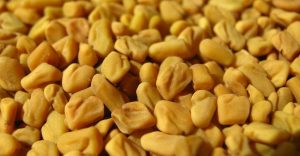 ​A common misconception about herbs is that they offer minimal efficacy if they are effective at all, nothing like conventional medications.
It may be surprising, then, that research shows that some herbs may be comparable, even superior, to conventional medications in their benefit-to-risk ratio in side-by-side comparisons.
Herbs are popular remedies for digestive disorders.
A 1999 study reported in the Canadian Journal of Gastroenterology revealed that 46 percent of human patients with inflammatory bowel disease had used complementary therapies within the previous two years; 34 percent of them were using it at the time of the survey.
Their most commonly cited reasons for using complementary therapies were the side effects and lack of effectiveness they found with standard therapies.
A 2004 study in the American Journal of Gastroenterology found that 60 percent of patients with inflammatory bowel disease used alternative and complementary therapies, mainly for pain or diarrhea. The two most common approaches were diet (45 percent) and herbs (17 percent).
The comparative frequency of complementary and alternative medicine usage in various populations of veterinary patients is currently unknown but warrants investigation.
It is important to know when veterinary clients are giving herbs to their animals because they may augment or interfere with conventional medications.
The panoply of compounds available for animals with digestive disease ranges far and wide. Many originate in ancient India. Herbs sounding more like spices on a kitchen counter than prescriptions in the medicine chest pop up frequently in digestive formulae.
A short list comprises ginger root, peppermint, fennel, fenugreek and caraway. Results from some studies comparing some digestive phytotherapies to conventional treatments are encouraging.
Overall, these plants appear to be relatively safe and often beneficial, but as with any non-regulated product, dangers can arise from contaminants, undisclosed pharmaceuticals and incorrectly identified plants hidden within the mixture.
Veterinarians choosing to treat patients with herbal medicine should also remain alert to drug-herb interactions.
For example, the concurrent administration of fennel with the quinolone antibiotic ciprofloxacin affects the absorption, distribution and elimination of the latter.
Thus, choosing to give both products would require an adequate dosing interval to avoid problems.
Chart
Condition or Benefit: Dyspepsia (indigestion, abdominal discomfort, nausea, vomiting, early satiety, abdominal bloating, usually following eating).
Focus of Study: Human.
Treatment: Fixed peppermint oil and caraway oil combination vs. cisapride.
Mechanism of Action: Both peppermint oil and caraway oil are spasmolytic to intestinal muscles. Peppermint oil has been shown to block calcium channels in both human and animal tissue.
Outcome and Conclusions: The combination preparation consisting of peppermint oil and caraway oil appeared to be comparable to cisapride (a prokinetic agent!) and provided an effective treatment, even in patients with initially intense epigastric pain.
Reference: Madish A et al. Treatment of functional dyspepsia with a fixed peppermint oil and caraway oil combination preparation as compared to cisapride. A multicenter, reference-controlled double- blind equivalence study. Arzneimittelforchung. 1999;49(11):925-932.
Condition or Benefit: Indomethacin-induced enterocolitis.
Focus of Study: Rats
Treatment: Ayurvedic herbal mixture of the following herbs, finely ground, in equal proportion: Bilwa, Dhanyak, Musta, and Vala. Mechanism of Action: The herbs reportedly have several beneficial effects, including antifungal, antibacterial, antiparasitic, cytoprotective, and anti-inflammatory properties.
Outcome and Conclusions: The herbal formulation provided statistically significant inhibitory activity against experimentally induced inflammatory bowel disease, and was comparable to prednisolone.
Reference: Jagtap AG et al. Effects of polyherbal formulation on experimental models of inflammatory bowel diseases. J Ethnopharmacology. 2004;90:195-204.
Condition or Benefit: Ethanol-induced gastric ulcer
Focus of Study: Rats
Treatment: Fenugreek seeds
Mechanism of Action: The seeds showed significant ulcer protective effects, through anti-secretory actions and by their effects on mucosal glycoproteins. They enhanced antioxidant potential of the gastric mucosa and lowered mucosal injury.
Outcome and Conclusions: The soluble gel fraction derived from the seeds was more effective than omeprazole in preventing lesion formation, demonstrating that fenugreek seeds possess anti-ulcer potential.
Reference: Suja Pandian R et al. Gastroprotective effect of fenugreek seeds (Trigonella foenum graecum) on experimental gastric ulcer in rats. J Ethnopharmacology. 2002;81:393-397.
Condition or Benefit: Gastric spasm during endoscopy
Focus of Study: Humans
Treatment: Peppermint oil
Mechanism of Action: Peppermint oil inhibits smooth muscle contractility in the GI tract in humans and laboratory animals.
Outcome and Conclusions: "Peppermint oil solution administered intraluminally can be used as an antispasmodic agent with superior efficacy and fewer side effects than hyoscine-N-butylbromide administration by intramuscular injection during upper endoscopy. "
Reference: Hiki N et al. Peppermint oil reduces gastric spasm during upper endoscopy: a randomized, double-blind, double-dummy controlled trial. Gastrointestinal Endoscopy. 2003;57(4):475-482.
Condition or Benefit: Chronic colitis
Focus of Study: Humans
Treatment: Boswellia serrata gum resin (Frankincense)
Mechanism of Action: Boswellic acids (the biologically active ingredients) are specific, non-redox and non-competitive inhibitors of 5-lipoxygenase, which is the key enzyme of leukotriene biosynthesis.
Outcome and Conclusions: In two studies, a higher percentage of patients receiving the Boswellia preparation improved than those receiving sulfasalazine, and did so with minimal side effects.
Reference: Gupta I et al. Effects of gum resin of Boswellia serrata in patients with chronic colitis. Planta Medica. 2001;67(5):391-395. Gupta I et al. Effects of Boswellia serrata gum resin in patients with ulcerative colitis. European Journal of Medical Research. 1997;2(1):37-43.
Condition or Benefit: Antioxidant and antimicrobial activity showing potential for food preservation.
Focus of Study: Antioxidant and antibacterial assays
Treatment: Essential oils of common fennel and marine fennel
Mechanism of Action: Antioxidant activity: Fennel oils protected the lipid matrix (linoleic acid) from oxidative attack by causing a dramatic reduction in the formation and degradation of hydroperoxydienes. Antimicrobial activity: F. vulgare had significant activity against against Brevibacterium linens, Clostridium perfringens, Leuconostoc cremoris, and Staphylococcus aureus. C. maritimum manifested good inhibition capacity against Clostridium perfringens.
Outcome and Conclusions: The essential oils of common fennel and marine fennel may prove valuable for food storage, to help keep food free of contamination and/or lipid peroxidation.
Reference: Ruberto G et al. Antioxidant and antimicrobial activity of Foeniculum vulgare and Crithmum maritimum essential oils. Planta Medica. 2000;66:687-693.
Source: Narda G. Robinson, DVM