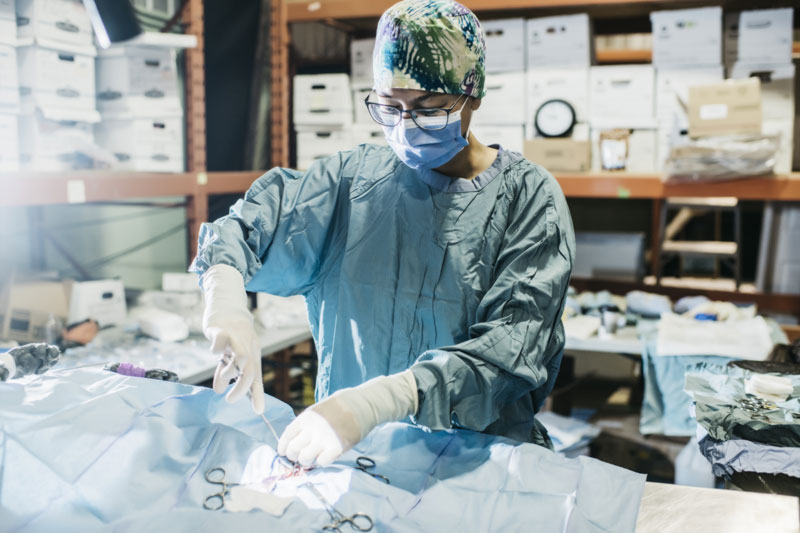 Telemedicine might be a new necessity for many veterinarians in Canada, but the offering is largely mainstay for those working in the country's northernmost regions.
This is certainly the case for Michelle Tuma, DVM, of Yellowknife. Dr. Tuma, who owns Northwest Territories Veterinary Services, a mobile practice, says telemedicine is very much a necessity in the North, where many communities do not have regular access to in-person veterinary care.
In the next issue of Veterinary Practice News Canada, we speak to Dr. Tuma to find out what it's like to practice veterinary medicine 'north of 60,' and why telemedicine is invaluable in the country's more remote regions.
Check out the excerpt below.
"The population of the Northwest Territories is approximately 40,000—20,000 of which are in Yellowknife," Michelle Tuma, DVM, tells Veterinary Practice News Canada. "The remainder of the population is spread across 33 communities, some of which are remote and only accessible by plane or winter roads and do not have a permanent veterinarian present. This definitely makes access to veterinary services a challenge."
Fortunately, Dr. Tuma, who obtained her DVM from the Western College of Veterinary Medicine (WCVM) in 2014, is up to the task.
"Once I graduated, I returned home to Yellowknife to practice at a local veterinary clinic," she says. "I was lucky enough to be approached by a few different organizations, asking me to participate in temporary clinics for remote northern communities that do not have access to veterinary care. So, in addition to working at a two-veterinarian practice, I travelled to more than nine communities in 2015 and 2016."
In 2016, Dr. Tuma left the territory, venturing to Nanaimo, B.C., to work at a private practice. A year later, though, she headed back home to the Northwest Territories.
"I missed the North," she explains.
Upon her return, Dr. Tuma took the position of first veterinarian on staff at a local animal shelter, while also continuing her work in Canada's remote areas. Around this time, she developed a spay/neuter assistance program, which has since taken her to more than 25 communities across the Northwest Territories and Nunavut.
When COVID hit in 2020 and Dr. Tuma was laid off from her position at the shelter, she decided the time was right to open Northwest Territories Veterinary Services.
"Having a mobile clinic is something I always considered, even pre-pandemic, because I knew it would give me the freedom to travel to different communities without worrying about a building sitting in Yellowknife," she says. "It helps me continue to offer veterinary services to northern communities, while also, hopefully, allowing me to have the ideal work-life balance."
To read the rest of our discussion with Dr. Tuma, be sure to check out the upcoming issue of Veterinary Practice News Canada!