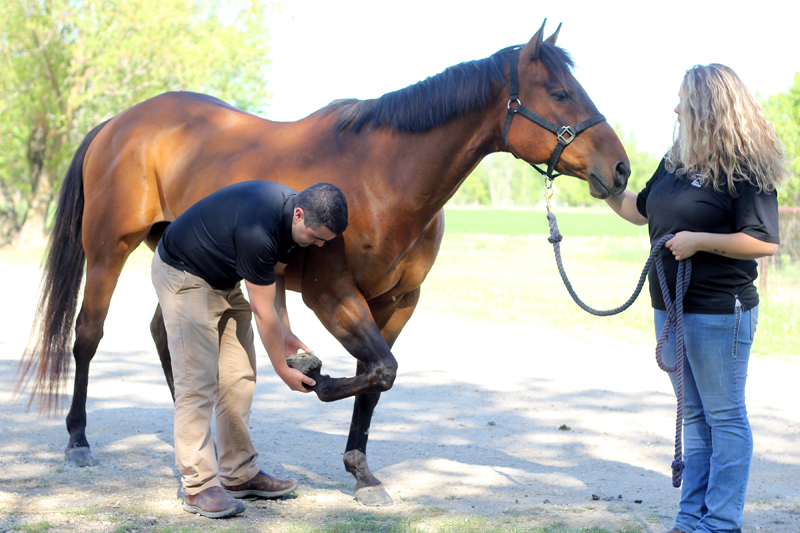 The day-to-day life of a rural, equine veterinarian is far from routine—and it is certainly very busy.
This is the case, anyway, for the Canadian Veterinary Medical Association's (CVMA's) recently installed president, Chris Bell, BSc., DVM, MVetSc., DACVS (Large Animal). Indeed, when Veterinary Practice News Canada caught up with the Western College of Veterinary Medicine (WCVM) alumnus and adjunct professor, he was driving through Neepawa, Man., 187 km northwest of Winnipeg.
"We do some remote clinic work," he explains. "So, we're headed up to Clear Lake right now."
In the next issue of Veterinary Practice News Canada, we speak to Dr. Bell to find out more about his day-to-day life as a board-equine veterinary surgeon, as well as learn more about the initiatives currently in the works at the CVMA.
Check out the excerpt below.
"The mental health and well-being of Canada's veterinary professionals is of the utmost importance," Dr. Chris Bell says. "Veterinarians across North America have struggled amidst the pandemic, the increased demand, the 'pandemic puppies,' and all the rest of it. CVMA has resources in place to support the veterinary community—there is access to help for those who need it. This also relates to mentorship, our veterinarians serving as a human connection for colleagues in need of help in veterinary medicine.
"Also among the association's focuses is Canada's veterinary shortage. This is one of the areas I was working on even before assuming my current role. The kick-off to my presidency was our Workforce Summit, which took place at the CVMA Convention in Halifax this past July. The summit allowed me to bring in three speakers who looked at different aspects and avenues around how to address the workforce shortage—whether this was better mobilizing our veterinary technologists within clinics to allow these professionals to practice at their full skillset, looking at alternative 'extender'-type roles, like the physician's associate/assistant model within veterinary medicine, or addressing issues related to team member retention and recruitment.
"CVMA also hosted a Workforce Congress, which brought together stakeholders from all provinces, including members of federal and provincial government, industry partners, and federal and provincial veterinarians. This helped start a dialogue, where we asked, "What are we going to do? How are we going to address this shortage?" From this, we have generated a document with our short- and long-term goals—some of which are already in motion. For one, almost all of the veterinary schools across Canada have increased their seats in the past 18 months. An exciting part of these additional students coming in is many of them have a rural background and will, ideally, go on to serve in Canada's agricultural sector."
To read the rest of our discussion with Dr. Bell, be sure to check out the upcoming issue of Veterinary Practice News Canada!