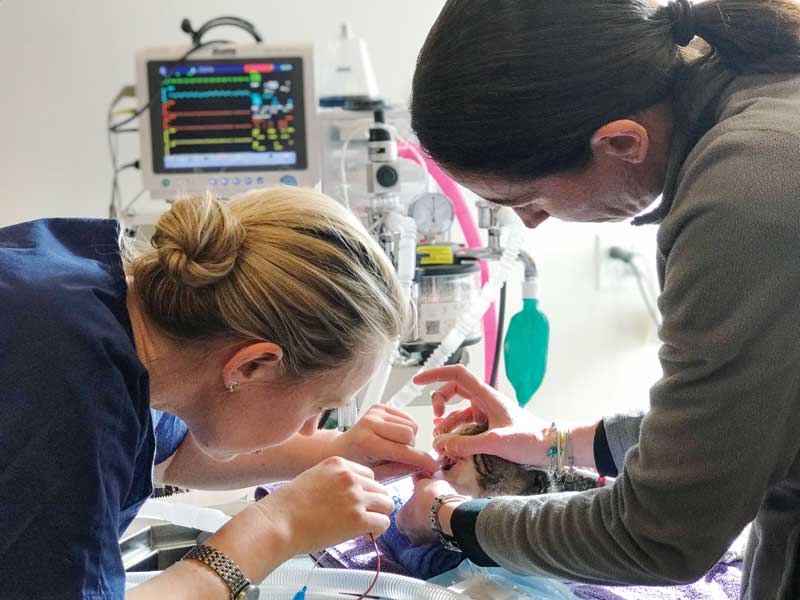 In last month's Dental Pearls column, we discussed the available literature regarding bacteremia that occurs during dentistry and other procedures, and what effect, if any, it has on bacterial endocarditis. This discussion stemmed from the fact I was recently asked for my thoughts on whether veterinarians should offer to perform a dental cleaning when a patient is undergoing anesthesia for an unrelated procedure.
This time, we wade through other considerations of what we will call the "combined procedure."
There are at least three concerns that should be considered in every combined procedure:
1) What effect will adding a dental procedure have on the success of the primary procedure?
2) How will adding the dental procedure onto a primary procedure affect the quality of the dental procedure and, therefore, the potential benefit of the dental procedure?
3) What are the benefits/risks of considering a combined procedure versus separating them into two anesthetic procedures? 
Weighing the risks
So what effect will adding a dentistry procedure have on the success of the primary procedure? One concern would be risk of infection at the clean surgical site. There are very few studies in veterinary patients that have assessed risk of surgical infection, but there are no studies, to my knowledge, that have assessed infection risk of coupling a dentistry procedure with a clean surgery. Obviously, the type of clean surgery being performed would dictate how devastating the effects of a postoperative infection may be. For example, removal of a skin mass may carry less severe risk when combining procedures than if the clean surgery of the combined procedure was a hip replacement. Weighing the risk versus benefit of a combined procedure would tip the scales toward not combining a dental cleaning with a hip replacement.
One epidemiologic study looked at information regarding post-op infections and found the infection rates of clean, clean-contaminated, contaminated, and dirty surgical sites were 4.7, 5.0, 12.0, and 10.1 percent, respectively, with an overall infection rate of 5.5 percent.1 Combined dentistry procedures were not specifically included in this manuscript, but there were two important conclusions that may be relevant to our current topic. First, surgical sites clipped before anesthetic induction were three times more likely to become infected than sites clipped after induction. Therefore, if a combined procedure is done, clipping of the clean surgical site would be best done immediately prior to the clean surgery, rather than clipping followed by the dentistry procedure followed by the clean surgery.
The study also found the risk of wound infection rose with increasing duration of surgery.1 This information plays a role in the decision-making process for combined procedures, especially since another veterinary study found that duration of anesthesia is a significant risk factor for infection, independent of the duration of surgery.2 This risk of infection may result from the common side effect of hypothermia associated with long anesthetic procedures and the effect of hypothermia on immune function. At least one human study also mentions anesthesia duration as a risk factor for surgical site infection.3 
Quality concerns
If a dentistry procedure is added to a scheduled surgery, how will performing a combined procedure affect the quality of the secondary procedure? This is an important consideration. When a patient has already been under anesthesia for an hour or more for the primary procedure, the tendency is to skimp on the second procedure to get the patient "off the table." Diagnosis and treatment of oral disease requires time and effort, including dental charting and dental radiography. Dentistry procedures are not quick procedures. Most pet owners aren't aware of what constitutes a thorough dentistry procedure, and may truly only be interested in a quick supragingival and subgingival cleaning and polishing, although some would likely expect thorough diagnostics. This leads to a situation where clients may not be receiving the service they anticipate due to combining procedures into a single anesthesia.
Ultimately, each time the question arises regarding whether to perform a combined procedure, the risks and benefits need to be assessed for that individual patient. If the benefit of combining an ovariohysterectomy with removal of persistent deciduous teeth seems to outweigh the risks of the combined procedure, the decision is justifiable.
Is one long anesthetic procedure safer than two shorter anesthetic procedures? In some cases, yes. In others, no. If a patient were already hypothermic before starting its second procedure, perhaps it would be best to do the second procedure on another day. If the patient is a Yorkshire terrier with a severe collapsing trachea, perhaps there is a greater risk for that patient to endure two separate anesthetic episodes rather than one long combined procedure to minimize the number of anesthetic recoveries needed.
Back to the originally raised question: Should veterinarians offer to perform a dental cleaning when a patient is undergoing anesthesia for an unrelated procedure? The answer to this question is not a simple "yes" or "no." Some questions require deep thought based on available facts, coupled to personalized considerations since every case may be slightly different. Purists and those who haven't taken the time to really think about all aspects of the question might be able to provide a quick answer, but our patients deserve individualized thoughtful consideration and decision making.4
If you have any comments or questions, drop me an email at info@siloacademy.com.
John Lewis, VMD, FAVD, DAVDC, practices dentistry and oral surgery at Veterinary Dentistry Specialists and is the founder of Silo Academy Education Center, both located in Chadds Ford, Pa.
References
1 Brown DC, Conzemius MG, Shofer F, Swann, H. 3. Epidemiologic evaluation of postoperative wound infections in dogs and cats. J Am Vet Med Assoc. 1997;210(9):1302-1306.
2 Beal MW, Brown DC, Shofer FS. The effects of perioperative hypothermia and the duration of anesthesia on postoperative wound infection rate in clean wounds: a retrospective study. Vet Surg. 2000;29(2):123-127.
3 Arabshahi KS, Koohpayezade J. Investigation of risk factors for surgical wound infection among teaching hospitals in Tehran. Int Wound J. 2006;3(1):59-62.
4 Lewis JR. Therapeutic decision making and planning in veterinary dentistry and oral surgery. Vet Clin North Am Small Anim Pract. 2013;43(3):471-487.