Stanislaus County, Calif., is laying claim to the nation's first private veterinary practice and government alliance, a project that some veterinarians see as unfair competition in the world of low-cost spay/neuter clinics.
The county has one of the highest euthanasia rates in the nation, with a 35-year-old shelter that was built to house 200 animals but accommodates more than 400 on an average day.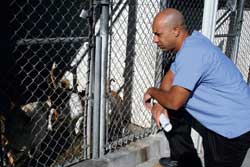 Photo courtesy of Dr. Kwane Stewart.
Dr. Kwane Stewart oversees the Stanislaus County animal shelter in Central California.
Of the 21,000 animals taken to the Stanislaus County Department of Animal Services from June 2008 through June 2009, 14,357 were euthanized. This rate, 68 percent, was emotionally draining for the 30 staff members and cost taxpayers $1.7 million.
"We euthanize 80 to 90 animals a day in peak season," says Kwane Stewart, DVM, the Stanislaus County veterinarian.
The euthanasia rate caused public outcry for years, but 2009 was the year the county Board of Supervisors folded to the community's request.
The board approved an $8.7 million, 33,360-square-foot facility, a fully equipped hospital and housing for 567 animals.
The new facility, set to open in December 2010, is "a leap in the right direction," Dr. Stewart said, adding, "But more space alone wouldn't get to the root of the problem, which is too many animals reproducing."
Stewart and two local veterinarians pushed for a spay/ neuter program to be attached to the new shelter. The program would assist clients who might not have the financial means to choose an elective procedure such as a gonadectomy.
"Initially the program was going to operate through the newly built shelter, but the plan drew negative attention from an unlikely source: local veterinarians," Stewart says. "We presented our spay and neuter plan to local practitioners, then a few days later we started hearing protests.
"I couldn't believe veterinarians aware of the thousands of animals dying every day in our county could be against an effort to resolve the issue."
Stewart says that while some veterinarians were concerned with how a low-cost clinic would affect their clinics' revenue, others feared that the clinic could evolve into providing vaccines and flea control.
Sean Fitzpatrick, DVM, and his partner, practice owner Sue Enz, RVT, spoke out publicly against the proposed sterilization program, saying the government was encroaching on their territory.
"My concern is that taxpayers' money is being used to compete with private business," says Enz, the owner of Village Oak Veterinary Hospital and three other veterinary facilities. "There is nothing the government can do better than private industry, and this is a veterinary industry concern."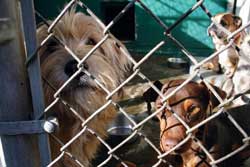 Photo courtesy of Dr. Kwane Stewart.
Stanislaus County euthanized 14,357 animals in one 12-month period.
Enz says she and the veterinarians opposed to the sterilization clinic wouldn't have minded the Humane Society's coming to perform low-cost sterilizations, but they cannot get on board with the clinic, even with the changes made to the plan.
In its final format, the sterilization clinic will be inside the new shelter, but it will have an external entrance, will not house any shelter animals and will not perform spays or castrations on shelter animals.
The shelter will have a second hospital strictly for adoption animals and staffed by Stewart and current staff members. The sterilization clinic will be run by two private practitioners who each operate a veterinary hospital.
"The clinic's equipment, estimated to cost upward of $150,000, will be financed by myself and Dr. Craig Brooks," says Michael O'Brien, DVM, of Maze Animal Hospital in Modesto. "The government will provide the facility free of charge for the non-profit clinic."
Dr. O'Brien noted that local efforts have tried to address the overpopulation problem but have had limited effect.
"There used to be as many as 25,000 admissions into the shelter every year, so the pro-bono cases that local vets have performed in their clinic and Project X have had some impact," O'Brien says.
Project X is a spay/neuter program initiated by local veterinarians that offers reduced-cost procedures at 12 animal hospitals.
Enz, whose hospitals participate in Project X, says 4,000 animals were altered through the program since June 2009.
"I could charge a lot less for a spay or neuter, too, if I didn't have to pay for a building to operate out of," Enz says, referring to the new nonprofit clinic.
"The overpopulation issue is a national problem, not just a local one," she says. "I have to show that I'm making a profit every year, and this new clinic will not have to, which isn't fair. I am basically going to pay through my tax dollars for this clinic to do the job my veterinarians should be doing."
O'Brien, owner of Maze Animal Hospital, is building a $5 million clinic to expand his current practice and says he has no concerns that the clients of the 501(k) not-for-profit spay/neuter clinic will reduce his revenue. He said 70 percent of the shelter's clients likely never had their pet treated by a veterinarian.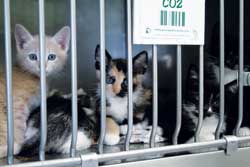 Photo courtesy of Dr. Kwane Stewart
Cats await adoption—or euthanasia—at the Stanislaus County, Calif., animal shelter.
"It is a major embarrassment to the industry that veterinarians would protest a program like this publicly," O'Brien says.
"You don't hear about MDs speaking against other doctors contributing to a government program for mentally challenged people or dentists complaining about free dental care for children. This way of thought keeps rural communities small-minded."
Stewart says that by reducing the local animal population through sterilization, hundreds of thousands of dollars used just to euthanize animals will be saved.
He predicts that more low-income communities and those affected by the recession will find ways to reduce their animal population by following this example.
"My hope is that our government and private practice collaboration will serve as a blueprint for similar programs across the country," Stewart says. "This could be the solution to establishing low-cost spay and neuter programs in other communities saturated with homeless animals, facing euthanasia."
This article first appeared in the January 2010 issue of Veterinary Practice News