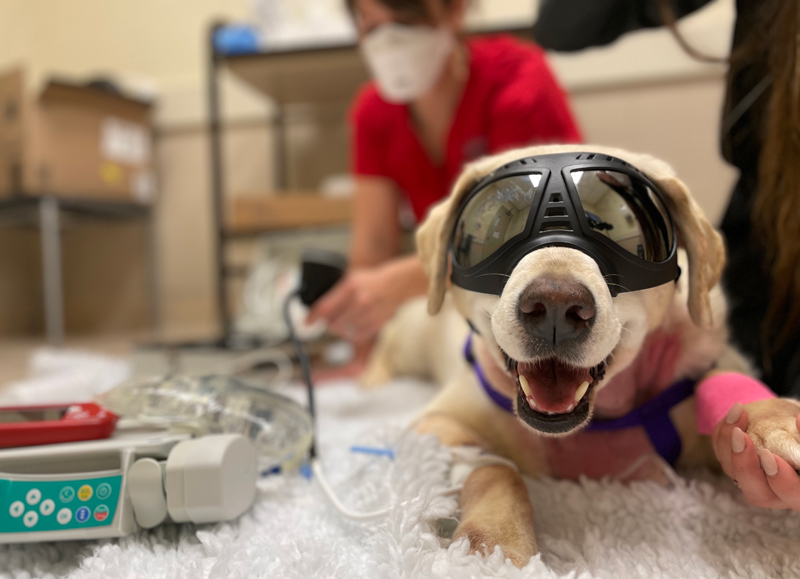 A first-of-its-kind non-surgical cancer therapy is currently being tested at the University of Guelph's (U of G's) Ontario Veterinary College (OVC).
Cited as a "seek and destroy" alternative therapy option, the treatment combines light-activated nanoparticles called porphysomes with photodynamic therapy (PDT). While PDT (i.e. use of laser light to destroy tumours) is not a novel therapy, this is the first pairing of it with a new nanoparticle technology, which was developed by Gang Zheng, PhD, a researcher at Toronto's University Health Network (UHN), U of G reports.
The technique might, ultimately, offer a targeted, non-surgical way to diagnose and treat tumours in pets and humans, which could prevent over-treatment and reduce common side effects, says Michelle Oblak, DVM, DVSc., DACVS, a veterinary surgeon oncologist and professor in OVC's Department of Clinical Studies.
"This is such an exciting opportunity to have an impact on how cancer is treated in both humans and pets, and to be involved in such an incredibly innovative idea and invention," she says.
"It's motivating for us to continue the work we're doing. This could change the way we treat and diagnose cancer in the future."
OVC's clinical trial kicked off in February with a 10-year-old beagle named Shiloh. Per the trial, which aims to recruit a total of 10 canine patients, porphysomes are injected into the bloodstream. The nanoparticles then collect in the tumour or any spot where cancer may have spread.
The light-activated molecule's fluorescent glow allows the OVC team to track its location using a special light source, U of G reports. Additionally, the porphysomes make the tissue more vulnerable to damage from laser light. A beam of near-infrared laser light directed through a nano-fibre activates the porphysome, which then destroys cancerous tissue.
For the clinical trial, the research team is destroying only a portion of the tumour, then taking samples of it and the lymph nodes to assess results of the therapy. (Patients in the trial will undergo standard-of-care surgery to remove the entire tumour, U of G reports.)
"There's a lot of interest in this as a non-surgical option," Dr. Oblak says. "This could really revolutionize many different aspects of cancer treatment and diagnosis."
With the trial, researchers hope to refine the treatment for use in animals and, ultimately, determine its use for treating various types of human cancer as an adjunct or alternative to surgery.
"This is a great model to understand how porphysomes and PDT work," says Charly McKenna, research manager for OVC's veterinary clinical trials and the Veterinary Medical Innovation Program.
Pending Health Canada approval and the results of the trial, UHN researchers hope to begin a human clinical trial with the technology late this year or in early 2023, U of G reports.
Written with files from the University of Guelph.