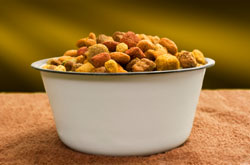 Due to potential Salmonella contamination, Mars Petcare U.S. of Nashville, Tenn., is voluntarily recalling 100 of the 20-pound bags of Pedigree Complete Nutrition Small Crunchy Bites sold in Albertsons stores in Southern California and Las Vegas.
Last week, a component that should have been on hold due to positive testing results was inadvertently shipped to the company's Tracy, Calif., facility and used in the production of 100 bags of the Pedigree Complete Nutrition Small Crunchy Bites with best buy dates of 7/2009.
Although the finished product tested negative of Salmonella and there have been no reports of illness or injury resulting from consumption or handling of the recalled product, the company said it is taking precaution and issuing the voluntary recall.
Mars Petcare also said it is cooperating with the U.S. Food and Drug Administration.
Pet owners are advised to dispose of the product in a safe manner, such as a securely covered trash receptacle, and return the empty bag to the store where purchased for a full refund.
Recalled Pet Food Information
Product: Pedigree Complete Nutrition Small Crunchy Bites
Size: 20-pound bags
UPC Code: 23100 14719
Lot Code: 830BFCAT02
Best Buy Date: 7/2009
Best Buy Date Location: Back of bag
Affected Stores: Albertsons locations in Southern California and Las Vegas