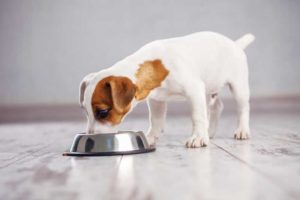 As veterinarians, our mission to identify curable conditions is everlasting, but like many of our human colleagues, we too may be overlooking the most logical etiology of all—food. Recently, the work of a handful of observant veterinary cardiologists raised concerns that certain diets may cause or exacerbate dilated cardiomyopathy (DCM) in some dogs. The collaborations with other veterinarians, pet owners, researchers, and government officials that followed have already begun to produce results invaluable to canine cardiac health, such as those recently reported by Kaplan and colleagues.2 Although we have many more questions than answers right now, we must continue the diet and nutrition conversation with each other, with pet owners, and—importantly—with members of the pet food industry.*
Factually speaking
We cannot ignore the economic implications of the pet food industry, which grossed more than $30 billion in the United States in 2018.1 In Canada, dog and cat food sales reached more than $1 billion in 2016, according to Agriculture and Agri-Food Canada. We also cannot ignore that we, as veterinarians, are very much a part of this industry. We have a responsibility to help ensure science—not marketing or profits—drives pet owners' decisions regarding pet food. To achieve this goal, we have to not only support scientific research, we also have to dig deep and listen to the results no matter how in line or divergent from our own beliefs they may be. A story I hope I never forget is that of my father-in-law, who suffers from heart disease, asking his cardiologist whether he should change his current diet to a different diet (one which has been scientifically proven to reduce heart disease) and his cardiologist replying: "Yes, [that] diet would probably help you very much, but I don't recommend it to most of my patients because I can't even eat that way." My father-in-law's cardiologist did what is known as being human, but when it's you that's sick, or your partner, parent, sister, or best friend, you just wish the doctor would give you the facts so you and your family can make an informed decision.
Here are the facts about diet-associated dilated cardiomyopathy (DADCM) in dogs that we have so far.
Suspicions raised
In 2017, several veterinary cardiologists from various locations in North America began suspecting the ventricular systolic dysfunction they were seeing in some of their canine patients was diet-related and because of two main factors:
1) A subjective assessment that a greater number of dogs from breeds that do not typically develop DCM
were being diagnosed with this condition and many of these dogs were consuming foods made by the same company and/or consuming diets with similar ingredients (e.g. atypical meat source, grain-free, legume-rich).
2) Many of the affected dogs experienced improvement or resolution of their DCM when pharmacologic therapy was coupled with diet change. The aforementioned observations and discussions prompted research efforts aimed at studying the potential relationship between some of the diets of concern and canine DCM. Highlights from those studies and related information are discussed later on in this article.
The taurine factor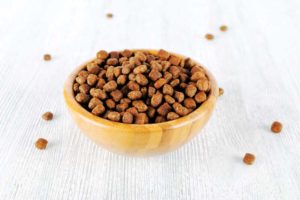 Kaplan and colleagues2 prospectively studied 24 golden retrievers that had both taurine deficiency and dilated cardiomyopathy and 52 apparently healthy golden retrievers. All 24 golden retrievers with taurine deficiency and DCM were receiving at least one of nine different brands of commercial dog food. Eight of nine brands were labelled as grain-free, and all food labels indicated they were formulated to meet the American Association of Feed Control Officials (AAFCO) Dog Food Nutrient Profiles. Fifteen of 24 dogs (63 per cent) were fed the same brand of food, and 10 of those 15 dogs were consuming the same variety of food.
Researchers found a statistically significant association between a low taurine concentration and the brand of diet that was being consumed by 15 of 24 golden retrievers. The authors classified any diet with a legume (e.g. beans, peas, lentils) as one of the first five ingredients as 'legume-rich' Using this classification scheme, all but three varieties of food consumed by dogs with taurine deficiency and DCM were legume-rich. Interestingly, the other four ingredients in the variety of food that was consumed by 10 of 15 affected dogs were deboned pork, pork meal, pork liver, and pork fat (whole lentils were the third ingredient).
All 24 dogs were treated with taurine, and 21 of 24
dogs were switched to a new diet. Over half of the dogs also were treated with at least one cardiac medication (e.g. pimobendan, benazepril). Nine dogs with congestive heart failure (CHF) also received furosemide. Follow-up taurine levels were performed at a mean of 143 +/- 93 days and were normal in all but one dog. At a median follow-up time of 250 days (range: 26 to 860 days), a statistically significant improvement in echocardiographic parameters was observed in all but one dog. It is worth noting that while most affected dogs (17 of 21) were switched to a diet containing grains at the time of diagnosis, four dogs were switched to a different grain-free diet and three of those dogs improved.
Another relevant finding was the discovery that most of the affected dogs were consuming fewer calories than predicted by calculated maintenance energy requirements (MER) and also less than the amount recommended by the pet food manufacturer. This suggests daily caloric intake could be a contributing factor to these conditions. Lastly, it seems golden retrievers may be genetically predisposed to taurine deficiency, and the low end of normal limits for taurine levels is higher in golden retrievers than other breeds.
Is grain-free the cause of DCM?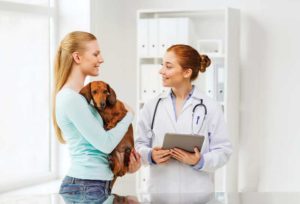 A retrospective study by Adin et al.3 evaluated 48 dogs of various breeds with DCM; 36 dogs were being fed a grain-free diet and 12 dogs were receiving a diet that included grains. Fourteen of 36 dogs (39 per cent) were consuming the same brand of grain-free food. A notable difference in the results of this study compared to the one by Kaplan et al. is that, of the dogs on grain-free diets whose taurine level was measured, none had taurine deficiency. An initial principal finding in this study was that the echocardiographic abnormalities in the 14 dogs receiving the same brand of grain-free food were more severe than the echocardiographic abnormalities in the dogs receiving diets that included grains. Seven of the 36 dogs with follow-up information were switched to a new diet at the time of DCM diagnosis and six of seven dogs also were prescribed taurine. All dogs were treated with cardiac medications according to their stage of DCM. Most dogs had improvement in their echocardiographic parameters at three months, and all dogs showed improvement by nine months. A remarkable similarity between the findings in this study and the golden retriever study is that two of seven dogs were switched from one grain-free diet to a different grain-free diet and their hearts improved, further emphasizing a lack of grains alone is probably not the cause of diet-associated DCM in all of the dogs studied thus far.
Legume-rich diets
Legumes are a valuable source of protein and other nutrients, and they have been used in pet foods since the 1990s. When grains are excluded from pet food, some manufacturers increase the amount of legumes in an attempt to offset nutrient and density losses. When legumes or other ingredients are provided in excess, a diet can become unbalanced. If the pet food formulator does not account for the potential imbalance by adjusting the type and/or amount of other nutrients in the diet, a deficiency of one or more nutrients may occur. An in-depth discussion of legumes and taurine is beyond the scope of this article, but interested readers can refer to the recent publication by Mansilla et al.4 for a detailed discussion. At Ross University School of Veterinary Medicine (RUSVM), we recently completed a comprehensive feeding trial of a legume-rich diet (dried peas and pea protein were the first and second ingredients, respectively) and found no evidence of taurine deficiency or DCM in any of the dogs (unpublished data).5 These findings suggest legume-rich diets can be formulated to be safe and nutritionally adequate for dogs.
The value of educating clients
The assertion dog food with 'grain-free' labelling will cause dilated cardiomyopathy or other heart disease has no scientific merit at this time. Propagation of this and other non-evidence-based claims has the potential to misguide pet owners and jeopardize patient health. As veterinarians, we can help shift the focus to nutritional science and away from trend- and emotion-based marketing by helping our clients understand the complexities of pet food formulation and animal physiology. We also can connect with AAFCO, the Global Nutrition Committee of the World Small Animal Veterinary Association (WSAVA), and pet food companies to express our support of the development of pet food labels containing complete and accurate nutrient information. In addition, we can enhance the quality of pet foods by supporting our veterinary nutritionist colleagues and by encouraging members of pet food companies to employ the expertise of nutritionists when formulating their products.
At this point, what we can say with confidence is there is a dietary factor that is harming the hearts of some of our canine patients. But is it nutrient excess or nutrient deficiency? Is it a combination of certain ingredients or nutrients? Is it the processing? Is it the quality or sourcing of ingredients or nutrients? Are dietary factors causing other chronic diseases? The questions go on and on, and in the short-term, we and our clients are bound to feel frustrated. When I look back at the "Diets and DCM" Listserv discussions among my colleagues from a year ago and compare our knowledge then to what it is today, I'm reminded just how productive and powerful collaborative research efforts can be.
* At press time, the U.S. Food and Drug Administration (FDA) announced it was continuing its investigation into certain diets and a heightened risk of canine dilated cardiomyopathy (DCM), and for the first time, had named 16 brands most frequently linked to the condition in its case reports. It made no determination as to why certain diets may be associated with the development of DCM in some dogs, nor did it suggest owners stop feeding these brands to their pets. It did, however, recommend veterinarians work with clients to determine the appropriate diet for a dog's specific needs.
References
American Pet Products Association. Pet Industry Market Size and Ownership Statistics. https://americanpetproducts.org/press_industrytrends.asp. Last accessed: 5/9/19.
Kaplan JL, Stern JA, Fascetti AJ, et al. Taurine deficiency and dilated cardiomyopathy in golden retrievers fed commercial diets. PLoS One.
Original: 2018 Dec 13;13(12):e0209112. doi: 10.1371/journal.pone.0209112.
Correction: 2018 Dec 31;13(12):e0210233. doi: 10.1371/journal.pone.0210233.
Adin D, DeFrancesco TC, Keene B, et al. Echocardiographic phenotype of canine dilated cardiomyopathy differs based on diet type. J Vet Cardiol. 2019 Feb;21:1-9. doi: 10.1016/j.jvc.2018.11.002.
Mansilla WD, Marinangeli CPF, Ekenstedt KJ, et al. Special topic: The association between pulse ingredients and canine dilated cardiomyopathy: addressing the knowledge gaps before establishing causation. J Anim Sci. 2019 Mar 1;97(3):983-997. doi: 10.1093/jas/sky488.
Cavanaugh SM, Cavanaugh RP, Gilbert GE, et al. Amino acid concentrations and echocardiographic findings in dogs fed a commercial plant-based diet. Abstract will be presented at ACVIM Forum, June 2019. Phoenix, Ariz.
Sarah M. Cavanaugh, DVM, MS, DACVIM (cardiology) is assistant professor of small-animal medicine at Ross University School of Veterinary Medicine (RUSVM). Dr. Cavanaugh received her bachelor of science from the University of Florida and earned her DVM from Ross University. After graduation, she completed an internship in small-animal medicine and surgery at the Animal Medical Center in New York City before completing a residency in cardiology and master of science at Colorado State University. In 2010, Cavanaugh became a diplomate of the American College of Veterinary Internal Medicine Specialty (ACVIM) of cardiology. She has practiced small-animal cardiology in Denver, Colo., and Fort Myers, Fla., and joined the faculty at RUSVM in 2017. Cavanaugh can be contacted via email at scavanaugh@rossvet.edu.kn.