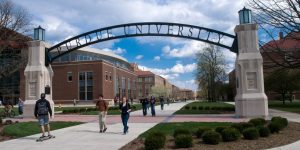 The Purdue University College of Veterinary Medicine recently was awarded the 2017 Health Professions Higher Education Excellence in Diversity (HEED) Award from INSIGHT Into Diversity magazine, the oldest and largest diversity-focused publication in higher education.
The award is a national honor recognizing U.S. veterinary medical, medical, dental, pharmacy, osteopathic, nursing, and allied health schools that demonstrate an outstanding commitment to diversity and inclusion.
"This recognition spotlights the tremendous effort that our faculty, staff and students have put forward in creating a climate and educational setting that truly supports all aspects of diversity and inclusion," said Dr. Kauline Cipriani, Purdue Veterinary Medicine director for diversity and inclusion. "It is no small achievement to be one of the first veterinary colleges nationally to receive the Health Professions HEED Award."
The award is open to all colleges and universities across the US. Applications cover all aspects of campus diversity and inclusion. One of the goals of the application process is to help institutions of higher education assess their diversity efforts in order to build on their success and improve where necessary.
"This award makes an important statement about the Purdue University College of Veterinary Medicine being a place that doesn't just talk about diversity and inclusion, but lives it," said Dr. Willie Reed, the college's dean. "This recognition identifies us as a model for the commitment, creativity, and effort required for an institution to make measurable progress in being truly welcoming and supportive of everyone. Our college really does value diversity, and this award documents that fact."
Among the college's programs:
Access to Animal-Related Careers: Enhances access for underrepresented minorities to a veterinary medical education.
This Is How We "Role": Initiative supported by the Science Education Partnership Award program of the National Institutes of Health that provides fun and interactive science and math experiences to kids in kindergarten through the fourth grade, with an emphasis on those who are educationally disadvantaged due to socioeconomic status, race, or ethnicity.
Purdue-based Center of Excellence for Diversity: Focuses on providing online certificate education in diversity and inclusion to faculty, staff, and students at 29 of the 30 schools and colleges of veterinary medicine, as well as veterinarians and veterinary technicians nationwide. A collaboration with the AVMA and the Association of American Veterinary Medical Colleges, the center has 443 participants in the certificate program, and nearly 120 who have achieved their certificates.
Purdue Veterinary Medicine is one of only three veterinary colleges in the US to receive the Health Professions HEED Award. The other two veterinary colleges honored are the Texas A&M College of Veterinary Medicine and Biomedical Sciences and The Ohio State University College of Veterinary Medicine.