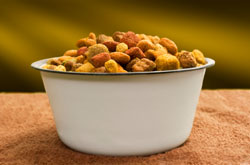 Due to potential contamination with Salmonella Schwarzengrund, Mars Petcare U.S. has issued a voluntary recall of all products manufactured at its Everson, Penn., facility between Feb. 18 and July 29.
The recall affects 31 states and includes brands such as Pedigree, Country Acres, Members Mark, Retriever, Red Flannel, Special Kitty, Doggy Bag, Natural, Ol' Roy, Paws & Claws, Wegman's, Pet Pride and PMI Nutrition.
"Even though no direct link between products produced at the Everson manufacturing plant and human or pet illness has been made, we are taking this precautionary action to protect pets and their owners," said Catherine Woteki, global director of Scientific Affairs at Mars Inc. "We are continuing to work collaboratively with the FDA to determine the nature and source of Salmonella Schwarzengrund at the Everson facility, and are committed to making sure our consumers and customers have the information they need regarding our voluntary recall."
The company said it stopped production at the Everson facility on July 29 when it was alerted of a possible link between dry pet food produced at the plant and two isolated cases of people infected with Salmonella Schwarzengrund.
Mars Petcare points out that many of the brands involved in the recall are national brands produced at multiple facilities. For example, the company manufactures Pedigree in numerous facilities throughout the country, and the Everson facility represents a very small portion of the manufacturing base—2.7 percent of total Pedigree production.
The company said that consumers should look for "17" as the first two digits of the second line on the production lot code for products affected.
Sample:
Best By Feb 18 09
17 1445 1
For Pedigree products, consumers should look for the "PAE" on the bottom line—the sixth, seventh and eight digits.
Sample:
Pedigree Small Crunchy Bites
Best Before 02/2009
808G1PAE01 12:00
Mars Petcare said that these products should not be sold or fed to pets. If consumers have purchased a product affected by the recall, they should return the product to the store where they purchased it for a full refund.
Pets with Salmonella infections may be lethargic and have diarrhea or bloody diarrhea, fever and vomiting. Some pets may only have decreased appetite, fever or abdominal pain. The company urges pet owners to contact a veterinarian if a pet has consumed the recalled product and has any of these symptoms.
In an effort to prevent the transmission of Salmonella from pets to family members and care givers, the U.S Food and Drug Administration has posted food handling guidelines on their website.
Click here for a complete list of recalled products. Questions can be directed to 877-568-4463.