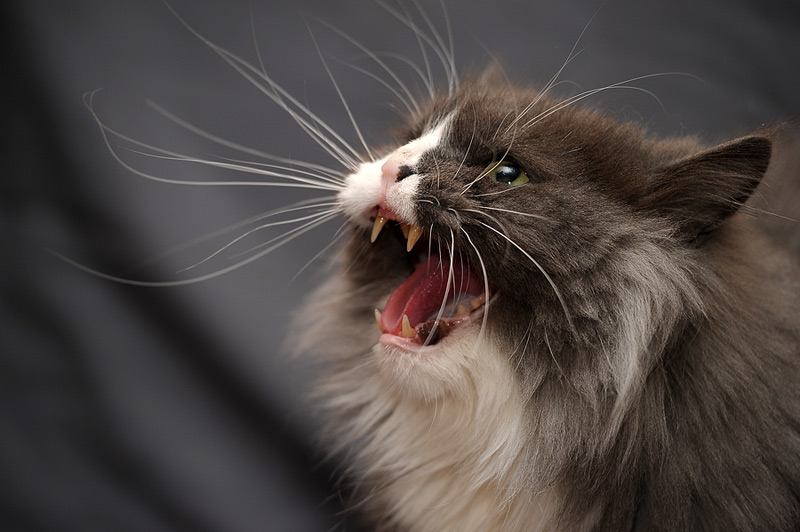 When it comes to curbing aggressive behaviour in cats, kindness and patience may be key.
This is according to a new study out of the University of Guelph (U of G). Researchers in the Ontario Veterinary College's (OVC's) department of population medicine have found cats whose unwanted behaviours are corrected using positive reinforcement show less aggression toward their owners than felines that are trained using raised voices and loud noises.
"Our research is focused on understanding why cats become fearful and aggressive, and on developing strategies for prevention and treatment," says Lee Niel, PhD, M.Sc., a professor in the department of population medicine and the Col. K.L. Campbell chair in companion animal welfare. "What we have found is the types of training people use in the home might play a role in cat aggression."
While the findings specifically relate to cats in adoptive homes, the study was originally designed to explore how experiences in kittenhood can affect adult cat behaviour, U of G reports. Data from animal shelters was used to analyze each animal's early experiences, then owners were surveyed about later experiences with the cat in the home.
Per the study, researchers considered various circumstances in the animals' early lives while in foster care, including being reared with its mother versus being bottle-fed; being reared with siblings versus being a singleton; and the cat's weaning and 're-homing' age, U of G says.
The study looked at 260 adoptive owners of cats between the ages of one and six. Owner surveys included questions on current cat behaviour, as well as the pet's home and social environment.
"We also looked at factors in the home after adoption, because they have also been suggested to be important," says lead author, Kristina O'Hanley, a PhD candidate in OVC's department of population medicine.
Thirty-five per cent of the cats included in the study were found to have swatted at and bitten people, researchers say. Overall, female cats were more likely to show aggression toward owners and other felines. However, in homes with many cats, there was a lower risk of feline aggression toward owners and other people.
Researchers attribute many in-home factors to instances of aggressive behaviours in adult cats, including enrichment access, the use of certain correction techniques, and provision of outdoor access, U of G reports.
However, they also note this type of survey-based data needs to be interpreted with caution.
"Further research is needed to determine whether cats become aggressive because of verbal and physical corrections, or if owners are more likely to use these methods on a cat that is aggressive," Dr. Niel says.
The findings have been published in Applied Animal Behaviour Science. For more, click here.