On 30 acres in Warwick Township, Pa., two hours south of New York City by bus and one hour northeast of Philadelphia, sits Ross Mill
Farm's Piggy Resort and Spa, a one-stop shopping destination for potbellied pig owners that offers grooming and boarding services, foster care and adoption, behavioral consultations and veterinary care.
"We're single-minded—we're devoted to the potbellied pig," said Richard Magidson, co-owner of the farm and resort with his wife, Susan.
Customers from Chicago, New York City, Washington, D.C., and the surrounding area drop their pets off at the lodge while they vacation for a week or two or for extended seasonal stays.
"People come to us as a destination," Richard Magidson said.
A custom-designed hydraulic lift at the spa holds an individual pig while it receives treatments ranging from Reiki-inspired massage, dander exfoliation, complete facials, mango-scented baths, skin and hair conditioning and a variety of oil and moisturizing treatments, all set to the sound of New Age melodies.
If a pig has put on a few pounds, the Magidsons might offer an individualized weight-loss program that includes lower-fat meals and daily laps around the lodge's indoor track.
Every other week, the Magidsons' pig spa gets a visit from a veterinarian who handles hoof trims and tooth problems, administers de-wormers and even performs skin-fold reductions for pigs whose layers of fat have folded over their eyes, blocking their vision.
Arlen Wilbers, DVM, whose large-animal practice is based in Quakertown, Pa., expected to be a bovine veterinarian, especially given his rural location, but as the area's population changed, he soon found himself drawn into the world of pigs.
"There was a real need for it," he said. Dr. Wilbers estimates that he sees 700 to 800 pet pigs a year. "This is my life," he said with a laugh.
Wilbers said there's a shortage of veterinarians able to care for the U.S. pet pig population, which needs checkups one to three times a year depending on the individual animal. He sees a lot of obesity, arthritis, and skin, eye, nail and tooth problems in his practice.
"If vets would learn just the routine maintenance for pigs, it could really make a difference," he said. Some pigs need their hooves trimmed every three to four months because indoor carpeting doesn't properly wear them down," he said.
There's no certificate to becoming a specialized pig veterinarian, Wilbers said, but it's easy to learn by attending seminars and talking to others in the field. "There are good economics in pigs," he said, adding that pet pigs make up about 25 percent to 30 percent of his practice.
Wilbers also recommends that veterinarians spay and neuter pet pigs at a young age to avoid accidental pregnancies and undesirable hormonal behavior.
With a lack of veterinarians knowledgeable about basic pet pig care, many of the Magidsons' customers schedule their pigs' annual veterinary exams to coincide with a trip to the spa, Susan Magidson said.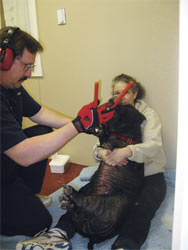 Veterinarian Arlen Wilbers, DVM, trims the hooves of potbellied pig Wilma while the spa's pig beautician, Brenda Koller, holds it on its back in the preferred grooming position. Some pigs protest the intrusion, so Wilbers always dons ear protection.