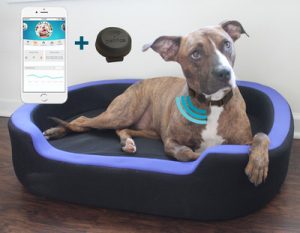 Petrics Inc.'s new smart pet bed, activity tracker, and health and nutrition app tracks a pet's weight, activity levels, and rest periods, and offers climate control to keep pets in optimal comfort and safety within varying climates and seasons.
The bed features a built-in scale and thermostatic heating and cooling, allowing the user to automatically or manually adjust the bed to the ideal temperature for each pet based on breed, environment, and geographic location. Manual adjustment can be done through the Petrics health and nutrition app or with commands to popular smart home products. The bed is available in three sizes and features a washable and replaceable cover and durable, comfortable construction.
The bed pairs with the activity tracker, which tracks pets' caloric burn rate, rest levels, and other health metrics. The waterproof, wearable tracker syncs with any smartphone and features a four-month battery life. The bed and activity tracker communicate with the app to monitor and track health and nutrition data, get food and diet recommendations, and share findings with other family members, pet sitters, and veterinarians. The app offers reminders like vet appointments, when to administer or reorder pet medications, application dates for flea and tick prevention, and more. It also sends out alerts for food recalls.
The company's health and nutrition app will be available for download at petrics.com/download, and the bed and activity tracker will be available in 2018. Visit petrics.com for more information.