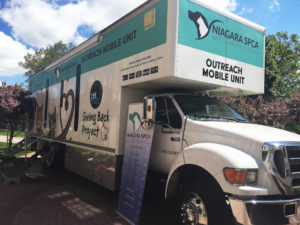 Pet Valu has announced it will be donating additional mobile clinics to Canadian registered animal rescues, shelters, and charities that apply for a grant.
This comes after two new mobile wellness clinics were given to the Ontario SPCA and the Niagara SPCA and Humane Society. The units allow animal care teams to travel throughout their communities to spay, neuter, and vaccinate pets in need.
"The pet overpopulation is a direct result of animals being left unaltered. Thousands of animals across Canada end up in shelters or are left to roam the streets where they are subject to neglect and or abuse each year," says Daryl Vaillancourt, chief of humane programs and community outreach Ontario SPCA and Humane Society. "We are very grateful for the vehicles the Pet Valu family of stores has donated, as they are specifically designed to help us address this problem."
Since launching the Giving Back Project last year, Pet Valu has donated more than $400,000 in one-time grants. So far, four trucks have been donated:
Ontario SPCA Mobile Animal Wellness Services
Niagara SPCA and Humane Society Outreach Mobile Unit
Niagara SPCA and Humane Society Recovery Unit
North Bay & District Humane Society Animal Rescue Express
"Pet Valu is deeply committed to giving back to local pet-related causes," says Rose Ferrante, Pet Valu's vice-president of marketing. "Our goal is to have more mobile animal hospitals and rescue transportation vehicles across Canada and we are looking for the right partnerships with rescue or charity organizations to help more pets in need."
To receive an application form, e-mail grants@petvalu.com. To qualify for 2019 grants, applications must be received by June 20.