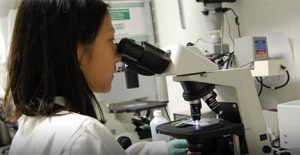 The Penn Vet Cancer Center is scheduled to host a two-day, inaugural Cancer Center Symposium that will kick off with a presentation by Cheryl London, DVM, Ph.D.: "Of mice, dogs and men: Transforming cancer outcomes through comparative oncology."
Dr. London is a research professor at both the Tufts School of Veterinary Medicine and the Molecular Research Institute at Tufts Medical Center, and also is an associated faculty professor at The Ohio State University College of Veterinary Medicine (OSUCVM). She is director of the Clinical Trials Office at the OSUCVM and director of Translational Therapeutics at the Center for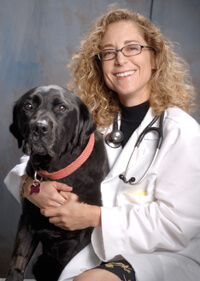 Clinical and Translational Sciences at OSU's College of Medicine. Her research interests center primarily on targeted therapeutics and translational/comparative oncology.
The keynote presentation takes place Thursday, Nov. 30, 2017, from 6 to 7:30 p.m. at Penn Vet's Hill Pavilion. Admission is free, but registration is recommended here.
Symposium Day 2
Presentations for the scientific community will take place on Friday, Dec. 1, 2017, at the Hill Pavilion. Registration is available here.
Speakers include:
Steven Dow, DVM, Ph.D., director, Laboratory for Immune and Regenerative Medicine, Colorado State University
Andrew Ewald, Ph.D., associate professor, Department of Cell Biology, Johns Hopkins School of Medicine
Amy Leblanc, DVM, director, Comparative Oncology Program, National Cancer Institute (NIH)
Jaime Modiano, VMD, Ph.D., Perlman Professor of Oncology and Comparative Medicine, University of Minnesota College of Veterinary Medicine
Elaine Ostrander, Ph.D., head, Comparative Genetics Section, National Human Genome Research Institute
Rodney Page, DVM, director, Flint Animal Cancer Center, Colorado State University
Robert Vonderheide, MD, DPhil, Hanna Wise Professor in cancer research at the Perelman School of Medicine, University of Pennsylvania; director of the Abramson Cancer Center
Kristy Weber, MD, professor and chief, orthopaedic oncology, Perelman School of Medicine, University of Pennsylvania; director of the sarcoma program, Abramson Cancer Center
This event is part of the University of Pennsylvania's ongoing efforts in support of the One Health Initiative, which is dedicated to improving the lives of all species through the integration of human medicine, veterinary medicine, and environmental science.