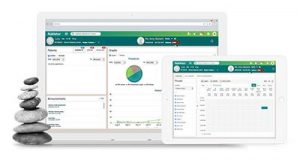 Patterson Veterinary and Cure Partners have formed a new business, Technology Partner Innovations LLC, which is launching a cloud-based practice management software, NaVetor.
"NaVetor was designed to be beautifully easy," said Ali Hashmat, CEO of Cure Partners. "The software was created uniquely for veterinary practices to follow veterinary professionals' work day and workflow."
NaVetor's features include:
Quick-view dashboard – Important information consolidated into a single view
Appointment calendar – Customizable display to quickly schedule or reschedule appointments
Whiteboard – Snapshot view of everything happening in the veterinary practice
Electronic medical records – Create and maintain paperless medical records for each patient
Billing and financial management – Streamline administrative processes and easily manage the business side of practice
Inventory – Manage inventory electronically to take the guesswork out of ordering and reordering
Reporting – Manage the business and identify growth areas
Conversion and training – Onboarding and support
Visit navetor.com for more information.