Ontario RVTs honoured for dedication, advancement of field
by samantha_ashenhurst | March 31, 2022 3:15 pm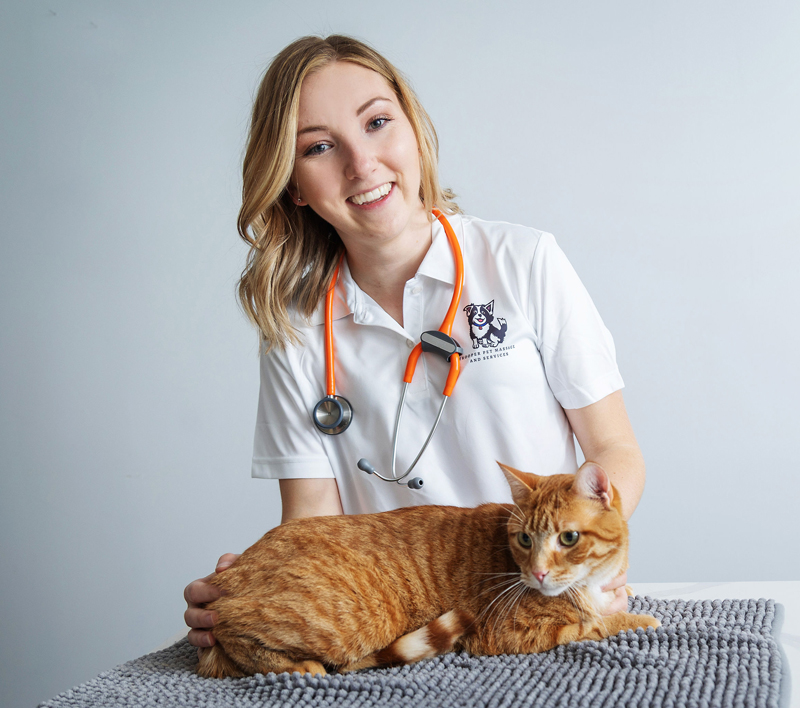 Four registered veterinary technicians (RVTs) and one veterinarian in the Heartland Province have been announced as the winners of the Ontario Association of Veterinary Technicians' (OAVT's) annual awards program.
"The OAVT Awards celebrate those whose contributions over the preceding year have gone above and beyond in a variety of ways, for animals, clients, employers, co-workers, and students," the association said in a statement. "Award winners are nominated by their colleagues and members of the public."
Rebecca Bartley, RVT, CCMT, is the recipient of the OAVT RVT of the Year Award, recognizing a technician who exemplifies dedication to the humane medical treatment of animals and excels in all aspects of their field. An alumna of Georgian College, Bartley is founder and CEO of Trooper Pet Mobile Veterinary Nursing[2], a mobile veterinary nursing service in Simcoe County, Ont.
"Rebecca is well-known as a dedicated hard worker [who is] so committed to putting patients at ease that she founded a company that enables at-home care for small animals—not only making it more convenient to get care for pets, but potentially resulting in more accurate test results and a better overall experience for animals for whom a trip to the veterinarian can be stressful," OAVT said in a statement.
Marg Brown, RVT, took home the OAVT Appreciation Award, in recognition of her outstanding support and contribution to the increased awareness of the field of veterinary technology. Brown, who graduated from the animal health technician program at Washington's Centralia College in 1974, taught veterinary technician students at Seneca College for 30 years.
"Marg's students have themselves gone on to become award-winning RVTs in different areas," OAVT said. "[Her] teaching, along with the volunteer hours put in to promote and advance the profession, including sitting on the OAVT Board of Directors, made this recipient a worthy choice."
The OAVT Merit Award, which recognizes an RVT who has a long-standing history of community service and dedication at the regional, provincial, or national level in a professionally related association, was presented to Tanya Arland, RVT. Arland, who has worked in the industry for more than 20 years, has continuously promoted and enhanced the field of veterinary technology through her positive attitude and her volunteer work in London, Ont.
"Tanya's dedication to community service led her to volunteering with a local youth shelter that supports homeless and at-risk youth and their pets," OAVT said. "[She] ensures the animals are well taken care of and receive appropriate food and medical care, sometimes spending her own money on supplies to help support these pets."
Andrea Steele, RVT, VTS (ECC), received the RVT Outstanding Contributions Award, which recognizes an RVT who has demonstrated exceptional support for the profession as a whole. Steele, who worked for 20 years as an ICU technician at the Ontario Veterinary College Teaching Hospital and now supervises the area, has consistently been a positive role model for colleagues, OAVT said.
"Proud of her role as an RVT, [Steele] is an inspiring leader and a speaker in demand for veterinary conferences, including the OAVT's recently concluded 2022 conference," the association added.
Finally, OAVT's Veterinarian Appreciation Award, which recognizes a veterinarian for outstanding support of and contribution to the awareness of the role of the RVT as part of the animal health care team, was presented to Natacha Bessay-Torfs, DVM.
"Dr. Bessay-Torfs makes sure the RVTs she works with know they are appreciated, valued, and trusted," OAVT said. "As an advocate for RVTs, Dr. Bessay-Torfs also helps to educate clients that some tasks, such as drawing blood or placing a catheter, are best performed by RVTs rather than a veterinarian. She is also respectful and helpful with new graduates who appreciate her support and give her credit for helping them become better RVTs."
In addition to the annual awards, OAVT also recognized members for years of membership milestones. Among the 160 members to receive milestone pins this year are Sue Day and Pam Pooley, who were given 50-year pins. Day and Pooley, who attended Centralia College's Animal Health Technology program together starting in 1970 and have been friends since, both attended the first meeting of the Canadian Association of Animal Health Technicians (CAAHT), a precursor to OAVT, in 1972.
Endnotes:
[Image]: https://www.veterinarypracticenews.com/wp-content/uploads/2022/03/SA_OAVT_Bartley.jpg
Trooper Pet Mobile Veterinary Nursing: https://www.trooperpet.com/
[Image]: https://www.veterinarypracticenews.com/wp-content/uploads/2022/03/SA_OAVT_Arland-scaled.jpg
[Image]: https://www.veterinarypracticenews.com/wp-content/uploads/2022/03/SA_OAVT_Steele.jpg
[Image]: https://www.veterinarypracticenews.com/wp-content/uploads/2022/03/SA_OAVT_Bessay-scaled.jpg
Source URL: https://www.veterinarypracticenews.ca/ontario-rvts-honoured-for-dedication-advancement-of-field/
---