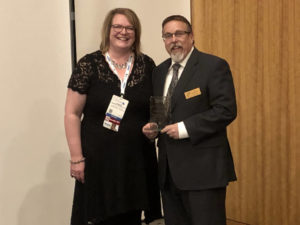 The Registered Veterinary Technologists and Technicians of Canada (RVTTC) board of directors has named the Ontario Association of Veterinary Technicians (OAVT) the recipient of the 2018 RVTTC Sandy Hass Appreciation award.
In a letter, RVTTC president, Heather Shannon, RVT, said, "The nomination by your peers at the RVTTC speaks volumes to your commitment and dedication to our profession. The Ontario Association of Veterinary Technicians has made great strides in doing exactly as their mission statement suggests—Advocate. Regulate. Elevate."
The honour was presented to OAVT at its recognition dinner in Niagara Falls, Ont., on March 1. Rory Demetrioff, executive director and registrar of the OAVT, accepted the award on behalf of the association.