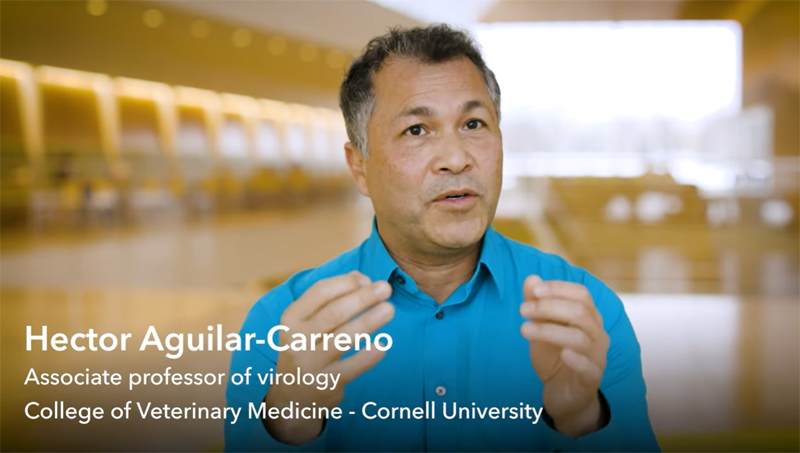 A nasal-spray treatment developed by Canadian researchers and a virologist at Cornell's College of Veterinary Medicine may help prevent COVID illness in humans, as well as reduce severity of and mortality from post-infection.
Working with experimental mice engineered with human receptors for the coronavirus on their cell surfaces, researchers have identified a new molecule (N-0385) they say inhibits entry of the virus into cells in the body. This molecule could be sprayed into people's noses to prevent COVID illness prior to exposure and provide early treatment if administered soon after infection.
Indeed, N-0385, which was studied in collaboration with Richard Leduc, PhD, and Pierre-Luc Boudreault, PhD, of the Université de Sherbrooke in Québec, Francois Jean, PhD, of the University of British Columbia, and others, was shown to protect mice from infection prior to exposure, while also providing effective treatment when administered up to 12 hours after exposure.
"There are very few, if any, small molecule antivirals that have been discovered that work prophylactically to prevent infection," says senior author, Hector Aguilar-Carreno, PhD, MS, an associate professor of virology at Cornell's College of Veterinary Medicine.
Researchers introduced the molecule intranasally into the mice before, during, and/or after infection. Several clinical and pathological measurements were tracked, including weight, temperature, and mortality, as well as mouse tissue analysis to understand how well the mice responded.
The therapy prevented the mice from losing weight prior to coronavirus exposure and from dying post infection, Cornell reports.
"This [treatment] is the first of its kind," Dr. Aguilar-Carreno says. "One advantage is it works early in the infection, even after someone has already acquired the virus."
The therapy has been tested in mice exposed to the first COVID strain detected in Washington state in 2020, as well as the Delta strain, Cornell reports. While it has not been tested on the Omicron variant, researchers are optimistic it will remain effective.
California-based company EBVIA Therapeutics is currently raising funds for human trials, drug development, formulation, and mass production. If successful, the treatment could be submitted for United States Food and Drug Administration (FDA) emergency-use approval within six months, Cornell reports.
The findings have been published in Nature. For more, click here.
For more, check out the video interview below (courtesy Cornell).