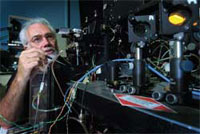 Purdue Receives Grant to Support Middle School Science Education
Purdue University's School of Veterinary Medicine recently received a $749,755 grant from the Howard Hughes Medical Institute, a nonprofit research organization, to support middle-school science education.
The grant is paid over five years and incorporates campus resources to develop a series of comparative biology electronic field trips.
"Middle school students will have the opportunity to interact with Purdue scientists in their laboratories without leaving their school grounds," said J. Paul Robinson, Ph.D., SVM Professor of Cytomics.
"We will pay special attention to selecting topics, visuals and scientists that appeal to a wide range of audiences, with particular emphasis on helping girls and minorities see science careers as both attainable and exciting."
Purdue will feature a host and one or two guest scientists from areas such as veterinary medicine, biology and agriculture, and will combine videos and animations, live demonstrations and experiments, discussions and question-and-answer sessions with working scientists.
"Electronic field trips are similar to traditional field trips," Dr. Robinson said. "They require advance preparation and certain amount of schedule modification, but with the advantage of saving transportation costs and travel time. This can be a significant addition to middle school science education programs, especially for small, rural school communities that are often overlooked when it comes to science enrichment opportunities."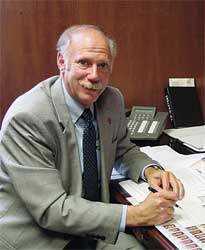 New Program Teaches Vet Students Minimally Invasive Surgery
Colorado State University says its new surgery program makes it the first veterinary teaching hospital in the nation to teach veterinary students minimally invasive surgery.
Veterinarians already offer a variety of these procedures at the James L. Voss Veterinary Medical Center on animals such as dogs, cats, horses, llamas and alpacas.
"The practice is relatively new in the veterinary field," said Eric Monnet, DVM, a cardiothoracic surgeon at the hospital, which is part of the College of Veterinary Medicine and Biomedical Sciences. "Colorado State has been a leader in training veterinarians cutting-edge techniques, and we'd like to make the public aware of the service here at our hospital."
The new surgery program at the university will train future veterinarians to perform the surgeries. It will also support current research projects including helping equine veterinarians develop better sedation techniques for surgery on horses while they are standing.
Ross University Adds Affiliate
Cummings School of Veterinary Medicine at Tufts University has become a clinical training affiliate of Ross University School of Veterinary Medicine in St. Kitts, the Federation of St. Kitts and Nevis.
Twenty-two American Veterinary Medical Assn.-accredited schools are now affiliated with Ross University.
Tufts will provide Ross University students a total of 48 weeks of training at its veterinary school. Students will then be eligible to sit for national licensing exams.
Ross University School of Veterinary Medicine is celebrating its 25th anniversary this year. More than 2,000 doctor of veterinary medicine degrees have been awarded since its opening.
Academic Briefly
The University of Pennsylvania has a new oncology and imaging facility devoted to veterinary medicine. The Rosenthal Imaging and Treatment Center is 9,200 square feet and houses MRI and CT scanners, a linear accelerator, two examination rooms, a fully equipped anesthesia prep room, a patient recovery suite and a conference room. The RITC is expected to open this summer.
The University of Pennsylvania School of Veterinary Medicine has named Gary Althouse, DVM, Ph.D., chair of the Department of Clinical Studies at New Bolton Center. Dr. Althouse, founder and director of the Reference Andrology Laboratory, specializes in the diagnosis and treatment of disorders that affect individual and herd reproductive performance.
The Louisiana State University School of Veterinary Medicine has hired Steven Winkler as the new director of the School's Veterinary Teaching Hospital and Clinics. He will be responsible for all facets of hospital administration, finances and personnel. Winkler comes from the MSA Consultants Corp., which he established in 2005 as a healthcare and risk management consulting corporation.