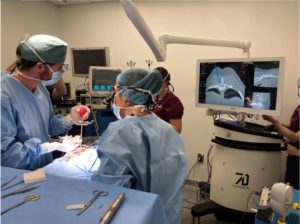 A new 24-7 veterinary emergency and specialty hospital has opened in Toronto and will mirror best practices in human medicine.
The Toronto Animal Health Partners Emergency and Specialty Hospital will offer veterinary care led by a team of specialists in their field of expertise.
"Everything we do is rooted in our core values—to provide the highest quality medicine, service and care," says Scott Woodrow, chief executive officer and founder of Animal Health Partners. "We view ourselves as a pediatrics hospital for pets. We provide around-the-clock health care using innovation, technology, and our network of veterinary and human clinical partners so we can offer pet owners the type of full-service care only available at the world's top human hospitals.
"We have the same, if not higher, level of medical equipment found in sophisticated human hospitals, such as our 3 Tesla MRI and 7D Image Guided Surgery platform. Our capabilities allow for a peer-based approach with human medicine—enabling us to share our knowledge and experience for providing the best health care outcomes for our patients."