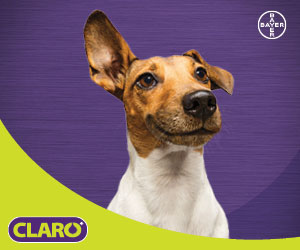 Introducing Claro®: a new first-line treatment for canine otitis externa that lasts 30 days and is indicated for treatment of otitis externa in dogs associated with susceptible strains of yeast (Malassezia pachydermatis) and bacteria (Staphylococcus pseudintermedius). Claro® is available for purchase as two packs or 10 packs. Learn more.
All information listed in this section was submitted by Bayer Animal Health.
Kenilworth Media Inc. cannot assume responsibility for errors of relevance,
fact or omission. The publisher does not endorse any products featured in this article.