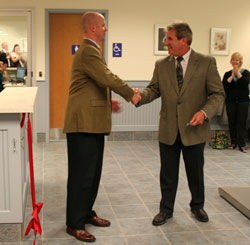 More than 180 people attended Port City Veterinary Referral Hospital's ribbon cutting ceremony on Oct. 3 in Portsmouth, N.H.
The 12,000-square-foot hospital provides 24 hour emergency veterinary services for dogs and cats seven days per week, in addition to board certified specialty services in internal medicine and surgery six days per week, and ophthalmology and radiology four days per week.
Deputy Mayor Jack Blalock said that he was "gratified to know that Portsmouth was home to an organization that would elevate the level of pet care available to members of the local community."
Port City Vet is part of InTown Veterinary Group, which includes five veterinary hospitals serving the metropolitan Boston area as well as the new Portsmouth location.