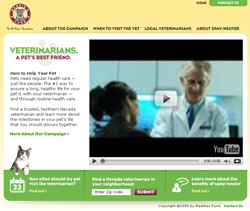 To help promote regular veterinarian visits for pets, Maddie's Fund has launched the Pets Love Vets campaign in Northern Nevada. It includes a paid television advertisement, which began  airing  Monday and will run until mid-July on local network and cable stations, encouraging pet owners to visit their veterinarians  and establish an ongoing relationship. Campaign fliers will also be distributed to veterinary hospitals and pet stores.
"Pets are like members of our family," said Rich Avanzino, president of Maddie's Fund. "Just as we rely on a family doctor for ourselves and our children, our pets, too, deserve regular care. We believe that starting a lasting relationship with a trusted local veterinarian is one of the best ways to ensure longer, healthier lives for pets."
Northern Nevada was selected as a pilot site to complement current pet welfare activities  conducted by local veterinarians and shelters and  because it has an excellent animal wellness network, Avanzino said.
Pets Love Vets is Maddie's Fund's second project in the Northern Nevada area. In February, the Society for the Prevention of Cruelty to Animals of Northern Nevada launched a low-cost neuter program for low-income resident in order to reduce the area's animal shelter population.
If the Pets Love Vets campaign proves successful, Maddie's Fund plans to expand coverage to other states, Avanzino said.