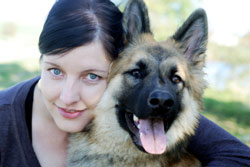 The American Humane Assn. has created a new division with the hopes of enhancing people's understanding about the important connection between people and animals.
The Human-Animal Division, which bridges the organization's existing Animal Protection Division and its Children's Division, will focus on programs surrounding issues such as animal-assisted therapy, pets and women's shelters and humane education.
Initiatives include enhancing health care services and education by providing direct services of trained animal-assisted therapy teams; developing new humane education curricula for use in elementary and college classrooms, as well as for professionals and parents; and incorporating the organization's growing public education about The Link (the correlation between animal abuse, family violence and other forms of community violence) and American Humane's new Pets and Women's Shelters (PAWS) Program, which helps domestic violence shelters accommodate their residents' pets onsite.
American Humane also plans to convene a national summit on the human-animal bond. It will look into forming an animal-assisted therapy coalition involving various other independent programs.