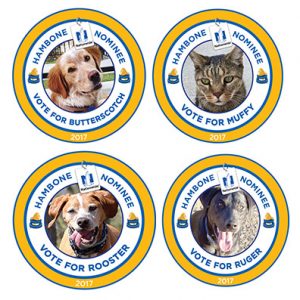 After reviewing nearly 1.5 million pet insurance claims received over the past year, Nationwide has nominated 12 candidates for the 2017 Hambone Award. Each year, the pet health insurer combs its database of more than 600,000 insured pets to honor the most "Unusual Pet Insurance Claim of the Year." The winner will be decided after a public voting period of Sept. 21 – Oct. 4.
Originally named after a dog who ate an entire Thanksgiving ham while stuck in a refrigerator, the annual Hambone Award has since been given to the most bizarre medical claim each year since 2009.
In addition, the veterinary practice that treated this year's Hambone Award winner will receive a $10,000 Nationwide-funded award through the Veterinary Care Foundation to treat pets whose owners could not otherwise afford treatment.
From the dog who was impaled by a tree branch to the cat who fell down an abandoned well, each of the 12 nominees have uniquely harrowing tales. All nominated pets have made full recoveries and received Nationwide insurance reimbursements for eligible veterinary expenses. Below are brief summaries of the 12 unusual claims nominated for the 2017 Hambone Award. For a more detailed account of each story, photos of the nominees, or to vote (Sept. 21 – Oct. 4), visit HamboneAward.com.
And the nominees are:
Muffy the tabby cat (Sylmar, Calif.). Muffy the diabetic cat has a strict feeding schedule, and after he missed a routine meal his owners became worried. Little did they know, Muffy had fallen down an abandoned well and wouldn't be saved without a heroic effort from the whole family.
Star the cattle dog mix (South Bend, Indiana).  Star's daily walks are often interrupted by her clumsiness, but a recent trailside blunder nearly ended in tragedy after she fell into a hidden manhole.
Rooster the hound mix (Scranton, Pa.). After a horrific incident at work, Rooster became his owner's source of comfort and therapy, but that companionship was nearly lost after Rooster was impaled by a tree branch during a hike.
Ruger the border collie/Labrador retriever mix (Fairfield, Calif.). Ruger was nearly killed after being run over and pinned underneath a large golf cart. Ruger was trapped under the cart until being saved by a group of local firefighters.
Raja the golden retriever (Naperville, Ill.). Raja nearly lost his life after being trapped in a house fire, but was saved by a daring rescue from his owner.
Butterscotch the great Pyrenees/Irish setter mix (Minneapolis, Minn.). A walk in the city left Butterscotch with shocking injuries after he stepped in a puddle that was exposed to a live wire and was electrocuted.
Ruby the golden retriever (Lakewood, Wash.). Ruby's puppy mischief nearly turned tragic after she got her head stuck in a moving elevator door, which smashed her snout.
Chuter the Labrador retriever/Irish Setter mix (Fairbanks, Alaska). A backyard bathroom break nearly ended in tragedy when Chuter was attacked by a massive mother moose, sustaining life threatening injuries.
Levi the Labrador retriever (Huntington Beach, Calif.). Levi's anxiety over the loss of a fellow family dog caused him to start chewing items around the house, and despite his family's efforts, Levi's bad habit peaked when he swallowed a pair of adult pajama pants.
King the bullmastiff (Lake Charles, La.). King let his sweet tooth get the best of him when he snatched a frosting covered spatula off the kitchen counter and swallowed it whole. Little did he know, the utensil would nearly take his life and lead to the removal of a portion of his intestines.
Denali the husky mix (Treasure Island, Fla.). Denali's almost lost her life after she snuck out of her yard and jumped into to a local pond where she was attacked by a huge alligator. Denali miraculously escaped by fighting off the 7-foot alligator and swimming to shore.
Tessa the mixed breed dog (North Kingstown, R.I.). Tessa was only trying to protect her family when she charged a running chainsaw, but the incident nearly left her with amputations after she sustained deep lacerations on her legs.