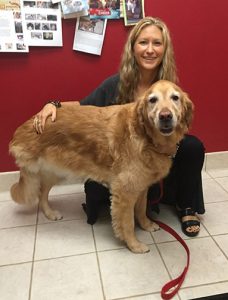 Oakland Veterinary Referral Services (OVRS) specialty veterinary care center is conducting a nationwide study on dogs with canine splenic hemangiosarcoma (HSA) and the benefits of using traditional Chinese herbal medicine (TCHM) as treatment to significantly extend life expectancy. Erin Bannink, DVM, DACVIM, VCHM, CVA, is leading the study, according to Lucy Henney, DVM, DACVS, owner of Bloomfield Hills, Mich.-based OVRS.
Most dogs diagnosed with HSA are treated by removal of the spleen after the tumor has ruptured and bled, causing life-threatening blood loss; most dogs living only two months after surgery due to the spread of cancer to other organs, according to Dr. Bannink. Because of HSA's aggressive nature, chemotherapy is usually recommended after surgery in the hope of prolonging life, but it only modestly prolongs survival, and most dogs still die of cancer spread within three to four months of diagnosis, she said.
"The purpose of this study is to determine if treatment with a specific herbal therapy regimen is helpful in prolonging survival time after surgery in dogs with HSA and no evidence of cancer spread," said Bannink. "We hypothesize that dogs treated with this standardized protocol after splenectomy will have improved survival times over historical controls treated with splenectomy alone, and will provide long-term survival rates comparable to or better than historical controls treated with splenectomy and chemotherapy."
A retrospective evaluation of 14 dogs with stage II HSA treated with TCHM after splenectomy resulted in a median survival time of over 253 days, with a 36 percent one-year survival rate and 14 percent two-year survival rate.
"Herbal therapies like TCHM may assist in the management of aggressive cancers like canine HSA through their anti-inflammatory, anti-angiogenic, and immune modulating activity," said Bannink. "Our main study formula ("HSA Compound") is a modification of a TCHM formula, which has been in use for centuries with no published reports of toxicity in humans or animals. Panax notoginseng (San Qi), one of the main herbs in this formula, contains ginsenosides, which have shown antitumor activity."
Nationwide pet owners with dogs suffering from stage II HSA are asked to volunteer and submit their animal for the study and TCHM treatment free of charge. For more information about the study criteria, responsibilities, and submission process, email info@ovrs.com.