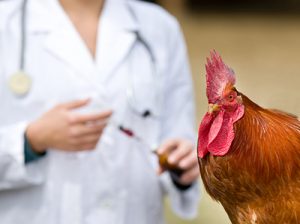 Ten second- and third-year veterinary students studying poultry health and wellness have been awarded $5,000 scholarships from Merck Animal Health in partnership with the American Association of Avian Pathologists Foundation (AAAP Foundation).
"These recipients are already standout students at their respective universities, and as they prepare to enter the field of poultry production, we want to help provide support for their ongoing education as we know student debt can be a challenge," said Rick Sibbel, DVM, executive director of technical services at Merck. "We are confident that, in the years to come, these talented students will be making a mark on our industry, helping all of us advance the science of healthier animals."
The 2018 Merck/AAAP scholarship recipients:
Denise Apperson, Oregon State University
Jacob Carlson, Kansas State University
Dallas Clontz, North Carolina State University
Valerie Marcano, University of Georgia
Kaytee McCullough, North Carolina State University
Sarah Morrissey, Cornell University
Kayla Niel, Michigan State University
Lisa Tenny, Kansas State University
Linnea Tracy, University of Pennsylvania
Katie Venters, North Carolina State University
"These veterinary students will provide the expertise to nourish the 2050 projected world population of 9.7 billion people with safe and sustainable poultry food products," said Fred Hoerr, DVM, PhD, president of the AAAP Foundation. "We are pleased to partner with Merck Animal Health to facilitate their success."
The honorees will be recognized at the AAAP Annual Conference, hosted July 13-17 in Denver.