The Louisiana State University School of Veterinary Medicine recently honored Drs. Mary Louise Martin and Debra Sellon with the Distinguished Alumnus Award.
The awards, which recognize alumni of the veterinary school for outstanding professional and personal achievements, were presented at the school's 77th Annual Conference for Veterinarians and Veterinary Technicians in October.
Martin received her Doctor of Veterinary Medicine in 1982 and later earned a Master of Science in genetics. She was the first veterinarian to be selected for a fellowship by Children's Hospital in Boston and in 1985 went to work at the Centers for Disease Control, where she was head of the congenital birth defects section.
In 1995, Martin left her job at the CDC and moved to Nairobi, Kenya, with her husband who was assigned to work in a polio immunization program for the World Health Organization. Martin died in the terrorist bombing of the U.S. embassy in Nairobi on Aug. 7, 1998.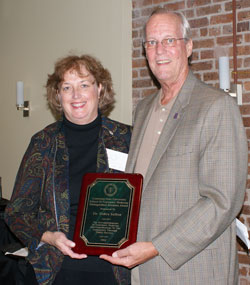 Dr. Sellon's award was presented by Dean Peter F. Haynes (right) to Dr. Rebecca McConnico, associate professor of veterinary medicine (LSU 1987), who accepted the award on behalf of Dr. Sellon.
Martin's brother-in-law and sister, Dr. and Mrs. Jim Bob Ourso, accepted the award on her behalf.
Sellon, who received her Doctor of Veterinary Medicine in 1983, is currently associate dean of the Graduate School at Washington State University.
Her research studies began in equine infectious anemia at North Carolina State University with later research in immunology and immune suppression in animals at WSU. Studies have also included equine protozoal myeloencephalitis.
Sellon, who is co-editor of the textbook Equine Internal Medicine, has gained more than $2 million in extramural funding, including awards from the National Institutes of Health.
Rebecca McConnico, DVM, associate professor of veterinary medicine and class of 1987, accepted the award on Sellon's behalf.