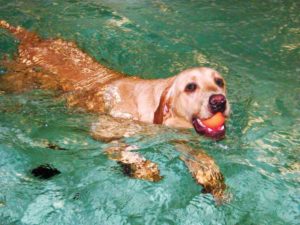 The face of veterinary medicine is changing, and it is doing so at the speed of light. We all know how the industry has evolved over the past 20 years. If we wish to have profitable small-animal practices that provide excellent service to our clients, we need to adapt, too.
The client of 20 years ago is nothing like the pet owners of today. The millennial customer base is internet-savvy and hungry for experiences. These clients want to participate in their pet's care, but they are always pressed for time. Keeping millennials in mind, what kind of experiences (read services) should you be offering? This demographic is interested in technology, but also craves a high-touch experience. Millennials want to be informed and educated, but they want to know you care. If you are going to provide a new service, you need to keep all these things in mind.
Adopting telemedicine
Telemedicine is the use of technology to enable remote health care. Basically, it makes it possible for a veterinarian to treat patients wherever and whenever through the use of a smartphone or a computer. At a recent veterinary conference, Adam Little, DVM, adjunct assistant professor of the practice at Texas A&M University College of Veterinary Medicine and founder of FuturePet, said, "By offering high-quality, personalized, accurate guidance and advice, telehealth services may be able to provide owners with an option between random Google searching and visiting the practice."1
Clients like this technology, as it enables convenient, affordable, and trustworthy care. It can be used as a continuation of care with existing clients or a way to initiate care with new ones. Having telemedicine available to the veterinary client is one way to gain revenue that otherwise would be lost to emergency clinics, retail locations, and online pharmacies. Many clients find a visit to the veterinary hospital to be too difficult, expensive, or time-consuming, and need alternative ways to solve simple problems and answer basic questions. Telehealth also can build client relationships that help improve compliance and is simply another form of communication. The fact is, you are likely practicing "hidden" telehealth anyway. How many clients, friends, and family text, phone, or email you about their pet's health concerns? A formal telemedicine system would ensure you get paid for your time.
There are two types of telehealth currently available to the veterinary practice: on-demand services and software services. The former are provided directly to consumers by companies employing veterinary professionals unaffiliated with your practice. The client pays directly for this service and the primary care veterinarian is not involved. With software providers, the clinic licenses the platform and sets up the scope of services that will be offered by telehealth, along with fees and hours of availability. This is a client service that you implement, market, customize, and control. Telemedicine is definitely worth investigating for the future of your practice.
Incorporating pain management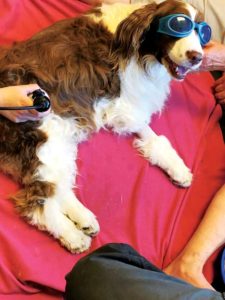 Advances in companion animal pain management have led the American Animal Hospital Association (AAHA) and the American Association of Feline Practitioners (AAFP) to update their guidelines to include the importance of integrated pain management. Effective pain management can reduce disease morbidity, facilitate recovery, and enhance quality of life.
Pain alleviation is a professional obligation and a way to enhance the veterinarian-client-patient relationship (VCPR). Osteoarthritis is a common cause of pain in companion animals, particularly geriatric patients, and it requires a multimodal approach. In addition to pharmaceuticals, it is important for the successful practitioner to integrate weight loss, nutraceuticals, regenerative medicine, and some rehabilitation services to fully deal with chronic pain. Diagnosis of chronic pain can be aided by technology, such as digital thermal imaging. Thermal gradients are represented as a physiological map of the patient, and outline the precise anatomical location that needs attention. This allows early detection of osteoarthritis and provides an objective outcome measure for treatments. The visual image aids in client communications and education.
Another device that can be used for early diagnosis and as an objective outcome measure is a static stance analyzer. This device provides a reading of weight bearing for each foot as a percentage of body weight. It also acts as a scale. When incorporated as part of a wellness exam, it can detect pain and lameness earlier and show clients—via a computerized printout—where their pet is painful. The analyzer can be used to track the pet's progress after treatment so success can be documented or, when the patient is no longer responding, establish that additional therapy should be initiated.
One high-tech tool for pain relief that appeals to clients is therapeutic laser. Laser therapy (a.k.a. photobiomodulation therapy) can be used postsurgery and post-injury to facilitate recovery and as a part of a multimodal pain-management plan for geriatrics and patients with chronic pain. The newer model lasers have preset protocols that take into account coat length and colour, condition treated, and the animal's size, so the practitioner can safely delegate the task of administering the therapy to a well-trained technician or therapist. Charging per session or offering prepaid packages that incorporate a small discount are options. Laser therapy appeals to the client who likes technology. In addition, it helps develop a bond between the client and the veterinary staff because the pet needs to be seen frequently, at least initially. This regular interaction allows the veterinary practice to continually assess the patient's condition.
Rehabilitation services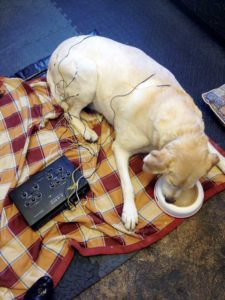 Rehabilitation is one of the fastest-growing segments of the veterinary market and it is very client-driven. The field of veterinary rehabilitation offers options for pets by enhancing their recovery from trauma, aiding in injury prevention, and maximizing quality of life for those living with chronic and debilitating conditions. Rehabilitation can be very high-tech, but it is also very high-touch. The veterinary team interacts frequently with the injured/disabled pet and bonds over the therapy. The client feels empowered to support the pet and participate in the healing process. Pet owners embrace the partnership with their veterinarian to provide the best care for their animal. Rehabilitation allows the veterinarian to carve out a niche market, offering a specialized service while engaging in a personally rewarding aspect of veterinary medicine.
Canine rehabilitation does take some training, but non-rehabilitation practitioners can get their feet wet by starting small and offering a few services. Focusing on pain relief postsurgery is something all practitioners can do. Ice packs are easily obtained and used, and cold compression devices can be used postsurgery or post-injury. These are affordable and technological solutions clients appreciate. You can incorporate the fee into the procedure or charge separately if you are applying the treatment post-injury.
Manual modalities, such as massage therapy, can be incorporated into a geriatric program as well. Massage can be used as part of an overall prevention, wellness, and fitness strategy, or to help a dog recover from a particular illness or injury. It is especially suited to geriatric patients, who often have sore muscles from overcompensation due to painful joints. Massage reduces muscle and joint pain, improves muscle tone and flexibility, and increases circulation. Further, it improves immune functions, reduces edema, and relieves anxiety. Since there are specific ways to massage a dog and contraindications for this treatment, it is important to receive adequate training. Many certification courses exist.
Hydrotherapy can be incorporated into a general practice, but it requires an investment in either an underwater treadmill or a pool. Water therapy is beneficial to improve strength, fitness, and conditioning, and it is a great cardiovascular exercise. Swimming is a totally non-weight-bearing exercise and so is generally used for aerobic conditioning. Underwater treadmills are often used postsurgery to strengthen muscles, as well as improve joint range of motion and weight bearing, while minimizing pain and discomfort. This same equipment can be used in geriatric dogs to help maintain muscle mass and for weight loss. The duration of exercise in the water is generally less than that required for similar exercise on land.
As part of rehabilitation or as a standalone procedure, some practitioners are incorporating regenerative medicine into treatment of osteoarthritis, joint injuries, tendon injuries, and geriatric care. Regenerative medicine involves injection of either stem cells, platelet-rich plasma (PRP), or both into damaged joints, muscles, or tendons. The rationale for the use of PRP is that the granules in platelets contain many signaling molecules and growth factors, which reduce the expression of inflammatory cytokines and decrease the neutrophil response and activity of matrix metalloproteinases (MMPs). The goal is to enhance the body's natural healing response. The success of PRP is variable depending on the preparation used.
Acupuncture
Acupuncture is the most requested modality by clients seeking integrative care for their pets. It requires extensive training and practice, but can help practitioners create a niche market if they are drawn toward the area of holistic medicine. Acupuncture has a role in pain management, particularly for musculoskeletal pain, but it can be used for a number of conditions, including seizure disorders, paralysis, and gastrointestinal (GI) problems. Acupuncture is a useful adjunct therapy and can be combined with some conventional treatments and other holistic modalities. Veterinarians can choose to be trained in traditional Chinese veterinary medical acupuncture or in medical acupuncture.
Behavioral/Fear Free services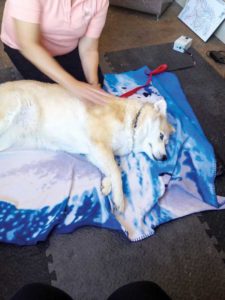 The Fear Free certification program is aimed at helping companion animal practices prevent veterinary visits from being stressful to the client, the pet, and the veterinary staff. This program promotes a "considerate approach and gentle control techniques in a calming environment, which results in an experience that is much more rewarding and safe for our patients, our clients, and the entire veterinary health-care team."2 When pets are not afraid of going to the veterinary hospital, compliance and return visits are high. Fear Free techniques include making the environment comfortable and calming for the pet through the use of mats, blankets, using "feel good" pheromones in the exam room, and playing classical music. Positive associations are created using high-quality treats. Client education is key to this program's success, but it is well worth it for the practice.
Regardless of where you see your niche and what services you decide are the right fit for your practice, good communication with your clients and members of your team is paramount. Clients need to be aware of the services you offer and why they are beneficial to their pets. It is important the veterinarian become an advisor to the client on the pet's health. Provide the pet owner with all the information they need to make a good and informed choice. As Theodore Roosevelt once said, "Nobody cares how much you know, until they know how much you care."
Veterinary medicine is not about selling services. Rather, it is about providing the best care for the patient. Marry high-touch personalized services with new technology to wow your clients and improve the outcome for your patient. If you take care of your clients' and patients' needs, the bottom line will take care of itself.
Janice L. Huntingford, DVM, MS, DACVSMR, CVPP, CVA, CAVCA, has practiced companion animal medicine for more than 35 years and has a boarded specialty in canine sports medicine and rehabilitation. She lectures nationally and internationally on rehabilitation, integrative medicine, pain management, and geriatric practice, and has published several peer-reviewed manuscripts and textbook chapters. Dr. Huntingford can be contacted by email at drjanhuntingford@gmail.com.
References
1 Howard, B. Your two paths to telehealth. 2018. bit.ly/2QNnzft
2 Fear Free Certification Program Launches at AAHA in JAVMA News bit.ly/2In1ZdN