Inaugural Feather in Her Cap awards go to 4 industry leaders
by Ellyce Rothrock | February 20, 2018 8:00 am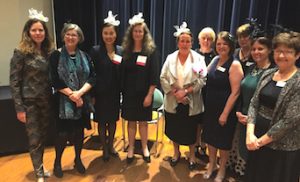 [1]Four women in the animal health industry have been recognized with inaugural Feather In Her Cap awards, recognizing their achievements and contributions and for mentoring and developing future women leaders.
The award, established in 2017 as part of the nonprofit Feather In Her Cap Association Inc., honors women who have made outstanding contributions in animal health through scientific, industrial, or commercial excellence and by demonstrating commitment to mentoring women in the animal health industry.
The four awardees, who each received a gold feather brooch and a feathered hat, are:
Kimberly Allen, president of commercial operations for Henry Schein Animal Health, has served in various leadership positions within in the veterinary distribution industry for 36 years. She was the first woman to serve on and the first to chair the American Veterinary Distributors Association Board, serving several terms as president.
Catherine Knupp, DVM, MS, executive vice president and president of research and development for Zoetis. She is a champion of the Zoetis Midwest Women's Mentoring Network, serving as a speaker at educational events and as a mentor.
Marie-Paul Lachaud, DVM, head of European program management at Aratana Therapeutics Inc. The founder of the first animal health clinical research organization in Europe, Dr. Lachaud now serves as an independent consultant to nearly all of the leading pharmaceutical companies in veterinary medicine.
Joyce Lee, president of North America for Bayer Animal Health, has developed and led general management, strategy, sales, marketing, R&D, engineering, manufacturing, and information technology teams. Over the course of her nearly 20 years career in animal health, she has been recognized for her developing innovative strategies for addressing complex business challenges, according to the association.
Endnotes:
[Image]: http://www.veterinarypracticenews.com/wp-content/uploads/2018/02/feather-in-her-cap.jpg
Source URL: https://www.veterinarypracticenews.ca/inaugural-feather-cap-awards-go-4-industry-leaders/
---