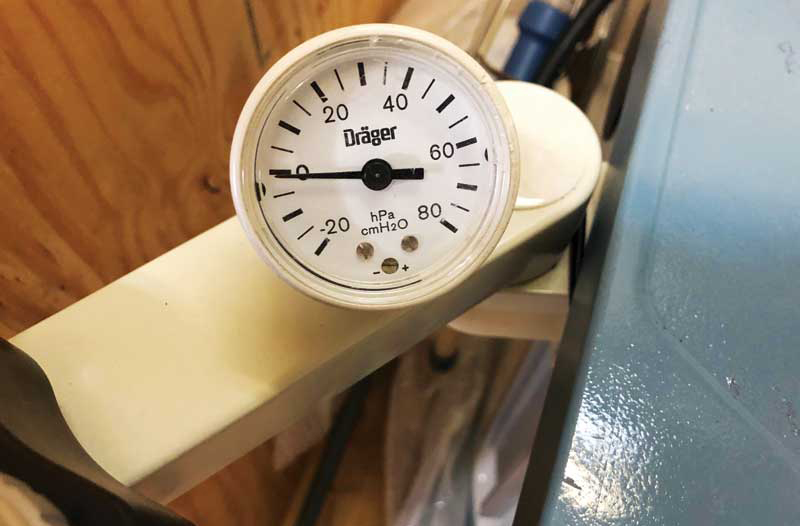 Although improvements in technology can make our lives easier, they can also create frustration and financial loss when a machine or device fails. In the last decade, the list of equipment veterinary professionals rely on has grown substantially, helping to improve the patient care experience, while streamlining processes that lead to increased efficiency.
That said, all these tools require regular maintenance to ensure they function properly and to avoid negative case outcomes. Not only that, but preventive maintenance can extend the life of your equipment and avoid unnecessary frustration and expense. With any piece of equipment, it is best to follow the manufacturer's recommendations to maintain optimal function. However, there are some basic guidelines that apply across the board when it comes to upkeep. This article highlights key pieces of equipment with many moving parts that see a significant amount of use in a veterinary practice.
Autoclaves
Infection control has always been a crucial part of veterinary medicine. And with everything happening in the world regarding COVID, it's become the key focus. As such, it is important to ensure your autoclave is sterilizing instruments properly. Some of the things you can do to maintain the life of your autoclave include:
Running a cleaning cycle while using a cleaning solution or powder. (Check the manufacturer's recommendation on which one to use for your machine.) Once the cycle is completed, wipe down the sterilization chamber, door gasket, and water sensors with a nonabrasive cloth and drain the water reservoir. Note the colour of the water. If it is dirty or cloudy, repeat the procedure. A good rule of thumb is to clean your autoclave approximately every 20 cycles, but be sure to look up what is recommended for the machine you use.
Checking the autoclave's safety relief valves and vent valves is also important. It is best to refer to the manual for the procedures specific to your unit; however, there are a few that are standard. First, if your unit has an air inlet filter, change or clean it. Watch the autoclave during a cycle—do you see any steam escaping around the door? This could be a sign the door gasket is leaking. If you are using a manual unit, check to ensure is it reaching the proper temperature and pressure. Is your autoclave sitting on a level surface? This point is important, as it makes sure the sterilization chamber has the correct amount of water. And lastly, have a qualified technician service your unit every year. This is an essential component to ensuring many years of trouble-free service and properly sterilized equipment. Technicians assess nonvisible parts that can wear down, thoroughly clean the areas you can't get to, and provide calibration as necessary.
Anesthesia machines and vaporizers
Proper maintenance of your anesthesia machines and vaporizers should be top priority in your clinic. If you do not provide quality anesthesia to your patients, you may increase surgical side effects or cause unnecessary pain and even death. And the threat doesn't stop there. Units with scavenge systems that aren't functioning properly also pose a risk to the health and safety of you and your staff due to exposure to waste gas. Anesthesia machines that leak cause anesthetic agent to be exhausted into the room, exposing staff.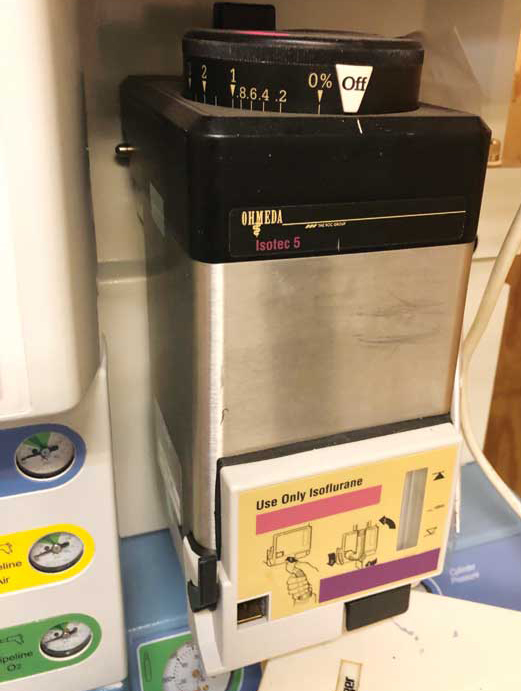 So, what needs to be done to ensure optimal anesthesia levels for your patient, as well as the safety of your team? First, conduct a pressure test every morning before your first scheduled surgery. This can be done by occluding the end of the rebreathing circuit either with a plug or your thumb. The pop-off valve should be closed or occluded with the pop-off blocker while the rebreathing bag is on the mount. Next, turn on the gas flow while watching the pressure manometer. Once a pressure of approximately 20 to 30 cmH20 has been reached, turn off the flow. If there are no leaks, the pressure on the completely occluded circuit will remain at the level at which you turned off the flow. If it doesn't and the pressure falls, there is a leak. In most cases, the leak is happening in the circuit. Make sure inspiratory and expiratory fittings are tight. You could also try replacing the circuit, as it may be cracked.
Next, check the rebreathing bag. Look for rips or tears, and make sure the bag is tight on the mount. Is the soda lime canister tight against the gaskets? Are soda lime crystals blocking the canister from being tight? Check for breaks in the gaskets. The scavenge flow and connection should also be checked on a daily basis. Is your scavenge tubing hooked up tight to your pop-off valve? From there, does the scavenge tubing travel to a waste gas removal pump or charcoal canister, or directly to the building's exterior?
An anesthesia machine's soda lime is another consideration to properly maintaining your unit. Soda lime—which removes carbon dioxide from breathing gases to prevent carbon dioxide poisoning—should be changed regularly. Unfortunately, colour change can be a late indicator of exhaustion of the crystals. Instead, inspiratory CO2 levels and the total number of surgical hours can be far more sensitive indicators for refreshing soda lime.
And lastly, have a trained professional provide a full annual inspection and cleaning of your anesthesia machine, as well as assess and replace parts that are not visible to you. Cleaning and calibrating the vaporizer should also be done as per the manufacturer's recommendations to maintain a steady plane of anesthesia. Unfortunately, this process cannot be done onsite, as it involves disassembling the vaporizer completely for internal part replacement and calibration. Without proper frequency of cleaning and calibrating the vaporizer, anesthetic agent levels can be erratic, leading to a lighter or deeper anesthesia, which can significantly impact patient outcomes.
Dental machines
Dental machines also require daily care for long and trouble-free use. With the growing trend of offering dental services, it has become even more important to maintain the life of your dental handpieces. Lubrication is the number one thing you can do to help lengthen the time before your high-speed drill and low-speed polisher require a new turbine or to be replaced completely. In general, dental machines should be lubricated every day they are in use, but always follow the manufacturer's recommendations for your particular unit.
It is also important to pay attention to the pressure levels for each of your handpieces. Most dental units have an indicator displaying the pressure at which the handpiece is spinning when it's being use. If the pressure is too high, the handpiece will wear out faster. If it's too low, it will cause decreased clinical efficiencies (e.g. the drill turns very slowly).
Always ensure the unit's water level is maintained so you have the right amount for clinical use. Water is also the cooling agent for most high-speed handpieces and many scaler handpieces.
As with the other equipment discussed in this article, ensure a qualified technician performs annual maintenance on your dental machine, which includes changing the compressor oil (if this is a requirement of your machine), verifying compressor output and pressure adjustment, and checking for air and water leaks. 
Monitors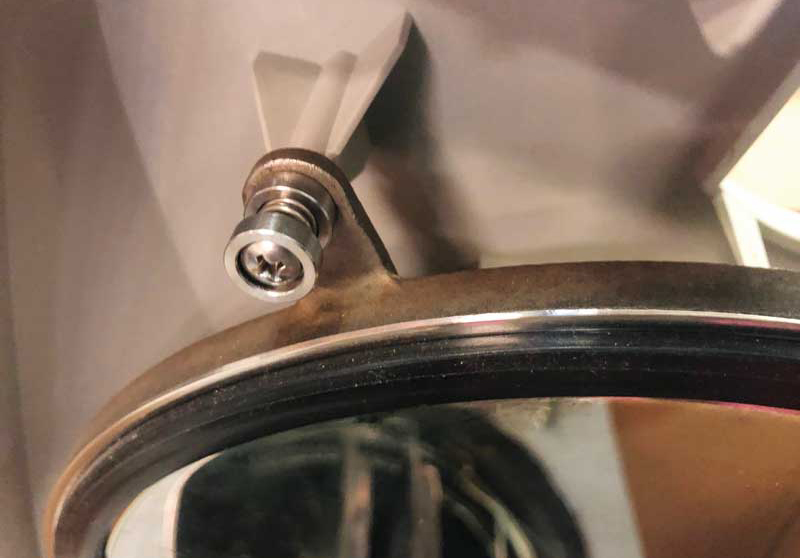 Maintaining your monitors can be important, as well. Most blood pressure cuffs are meant to be disposable in the human world. However, many veterinary clinics and hospitals reuse blood pressure cuffs. In addition to having an extra set of cuffs on hand, also keep extra ECG leads and airway adaptors. If you are using mainstream CO2, having spare airway adaptors is beneficial. If you are using sidestream CO2, keep extra sampling lines onsite. All monitor accessories have wear time. If you find patients' vital signs are inaccurate or you are having difficulty getting any values at all, the fix may be as simple as replacing an accessory. You can always contact your service provider for guidance and troubleshooting advice.
If you are considering purchasing advanced equipment such as an MRI, CT, or another complex diagnostic machine, it is important to review the service agreement to ensure it is being properly maintained and updated as needed. This can also help prevent unforeseen and likely expensive costs.
Overall, it is good practice to keep copies of manuals in a common area for referral to make sure preventive maintenance is being performed based on the manufacturer's recommendations. Your service company can also be a great resource for further hands-on education and co-ordination of these tasks.
Following these simple suggestions and maintaining equipment per the manufacturer can lead to better patient outcomes, as well as less downtime, frustration, and financial burden throughout your clinical practice.
Rob Salway, RRT, is CEO of Ontario-based Georgian Anesthesia and Medical Corp., and has 24 years' experience as a critical care respiratory therapist. In 2001, he founded Georgian Anesthesia, which focuses mainly on veterinary anesthesia preventive maintenance. Salway can be reached at robsalway@georgiananethesia.com.