Improving the outlook for brain tumor patients
July 21, 2020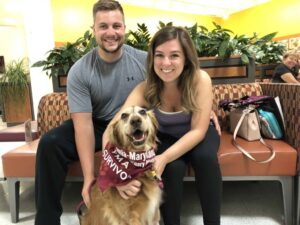 The path to discover and perfect new cancer treatments is long and expensive. It can take more than a decade and cost over $2 billion to demonstrate the safety and efficacy of a new therapeutic before it reaches the marketplace. To expedite the process, researchers are thinking outside the box—or rather, outside their own species. The concept of comparative medicine (i.e. One Medicine) has great potential to accelerate the development of new cancer treatments. By examining the similarities and differences in biology among different species (e.g. dogs and humans), we gain increased understanding of the mechanisms of disease in each. This comparative medicine model, as demonstrated in the field of neuro-oncology by the Comparative Brain Tumor Consortium (CBTC), has already shown promising results.
Launched by the Comparative Oncology Program (COP) of the National Cancer Institute (NCI) in 2015, CBTC comprises veterinarians, physicians, and basic researchers who have joined forces to improve outcomes for dogs and humans affected by brain cancer by using more predictive and accurate preclinical models. Laboratory animal models don't always adequately mimic the complex genetic, biologic, and environmental conditions of the human experience. Dogs get many of the same spontaneous cancers as humans, and their genome is similar to that of humans. They also are our closet companions and share our environments, including food and water. The original meeting of the CBTC established a collaborative research network to share experiences and knowledge, defined a working group structure for the invited multidisciplinary experts in attendance, and outlined project goals for each working group. A white paper describing the original dialogue and plan for collaboration was published in the journal, Neuro-Oncology.1
Over the last four years, CBTC has made progress in advancing our knowledge of canine brain tumors, bringing together human and veterinary oncologists and pathologists, among other specialists. The following is an update from each of its five working groups:
Pathology and molecular markers
With financial support from the American Kennel Club's Canine Health Foundation (CHF), the pathology and molecular markers working group convened a glioma pathology board to review a large collection of canine glioma biopsy samples and describe the clinical and pathologic features of these tumors. The board created an atlas of microscopic features that allows researchers at different institutions to have a consistent discussion about the disease, as well as compare and contrast its features in dogs and humans. It also updated the classification system used to describe canine gliomas and published the Revised Diagnostic Classification of Canine Gliomas in 2018.2 CBTC hopes this updated microscopic description system, combined with future molecular and genetic information, will revolutionize the diagnosis of canine gliomas and help in translational understanding of this cancer between dogs and people.
CHF and the National Cancer Institute (NCI) are now funding a CBTC meningioma pathology board to complete a similar assessment of canine meningiomas. A better understanding of the histologic, genetic, and molecular makeup of these canine brain tumors will allow exploration of a variety of diagnostic and treatment targets to improve outcomes for both humans and dogs.
Drug discovery
The drug discovery working group is collaborating with the National Center for Advanced Translational Sciences (NCATS) to apply high-throughput drug cell line screening to evaluate both human and canine-derived glioma cell lines. This is a process using automation to rapidly identify compounds that modulate a particular biomolecular pathway. By screening three canine astrocytic glioma cell lines and two human pediatric glioblastoma cell lines for reactivity with thousands of approved and investigational compounds, researchers will identify the most promising drugs for further study. Additional validation work in newly created canine and human glioma cell lines is planned to expand this project in the future.
Tumor biology and immunology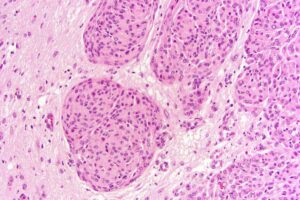 NCATS also is working with CBTC's tumor biology and immunology working group to complete whole exome sequencing on canine meningioma tumor samples. Whole exome sequencing identifies variations in the protein-coding regions of any gene. Since most genetic mutations causing disease occur in these protein-coding regions, whole exome sequencing helps identify and describe genetic variations that may contribute to disease.
Another project led by this working group is exploring the mutational load and neoantigens of six different canine cancers, including glioma. Mutational load is a measure of the number of mutations within a tumor genome. Neoantigens are newly formed antigens the immune system has not previously recognized. They often originate from altered tumor proteins created by tumor mutations. The National Cancer Institute awarded funding in 2016 for investigators at NCI-designated cancer centers and veterinary medical colleges to characterize the immunogenic and mutational properties of these canine tumor models. Knowledge of these tumor traits will inform and direct future testing of drugs or chemotherapy agents.
Patient outcomes
CBTC's patient outcome working group distributed a survey to American board-certified veterinary neurologists. The information collected will better define existing diagnostic, treatment, and management strategies for canine brain tumor patients. This group also published a consensus document in 2018 recommending standardized brain tumor imaging protocols.3 Similar to the benefits of updated tumor classification systems, applying standard imaging protocols consistent with those used in human medicine allows for a more reliable comparison of results between different veterinary centers and between canine and human studies.
Clinical trials
Currently, several clinical trials are being conducted through CBTC:
1) The AKC Canine Health Foundation awarded funding in 2017 for the first clinical trial conducted through CBTC. This grant went toward studying the safety and efficacy of a novel chemotherapy drug combination for canine meningioma patients. Participating dogs receive treatment with PAC-1 (a drug that selectively kills cancer cells) and hydroxyurea (a drug that kills cancer cells by affecting cell replication) followed by MRI imaging and surgery to remove their tumor. Patients are being recruited for this study at the University of Illinois, University of Pennsylvania, and Virginia-Maryland College of Veterinary Medicine, working alongside NCI. Investigators have already published a description of the molecular target, procaspase-3, and its abundance in canine and human brain cancers.4
2) The National Institute of Health (NIH) awarded funding recently to study several novel therapeutic strategies for canine malignant gliomas. The PRE-medical Cancer Immunotherapy Network for Canine Trials (PRECINCT), which is part of NIH's Cancer Moonshot initiative, is supporting two active clinical trials evaluating new immunotherapy approaches for the treatment of these devastating cancers. Researchers at the University of Alabama at Birmingham have partnered with veterinary neurologists, oncologists, and surgeons at Auburn University, the University of Georgia, Mississippi State University, and Tuskegee University to evaluate an FDA-approved oncolytic virus that expresses IL-12. Another trial at the University of Minnesota is evaluating combination strategies that involve gene therapy, immune checkpoint blockade, and tumor lysate vaccines for the treatment of glioma.
3) Additionally, researchers have produced monoclonal antibodies that bind to surface proteins expressed on the majority of canine glioma cells, but not normal canine brain tissue. By connecting toxic molecules to these monoclonal antibodies, investigators believe they have a potent drug that specifically attacks brain cancer cells. Since these cytotoxin-antibody molecules are too large to cross the blood-brain barrier, they must be delivered directly into the tumor via a method known as convection enhanced delivery (CED). This study evaluates the effectiveness of this new drug and its delivery method in treating canine glioma tumors. Patients are currently being recruited for this study at Virginia-Maryland College of Veterinary Medicine.
Comparing tumor biology and the immune response of canine and human brain tumor patients provides a valuable opportunity to improve the health of both species. The Comparative Brain Tumor Consortium demonstrates the successful collaboration of veterinary and human medical researchers to further understand cancer and to expedite the development of new brain tumor treatment options.
Sharon M. Albright, DVM, CCRT, is manager of communications and veterinary outreach for the American Kennel Club Canine Health Foundation in Raleigh, N.C. She graduated from the Virginia-Maryland College of Veterinary Medicine and practiced small animal primary care medicine in the mid-Atlantic region for 15 years. Dr. Albright is a certified canine rehabilitation therapist and an elite Fear Free certified professional. Her passion for golden retrievers led her to Colorado in 2015 to work on the Golden Retriever Lifetime Study before returning to the east coast for her current role at the AKC Canine Health Foundation. Albright can be contacted via email at sharon.albright@akcchf.org.
REFERENCES
1 LeBlanc, AK, Mazcko, C, Brown, DE, Koehler, JW, Miller, AD, Miller, CR, Bentley, RT, Packer, RA, Breen, M, Boudreau, CE, Levine, JM, Simpson, RM, Halsey, C, Kisseberth, W, Rossmeisl, JH, Dickinson, PJ, Fan, TM, Corps, K, Aldape, K, Puduvalli, V, Pluhar, GE, Gilbert, MR. (2016) Creation of an NCI comparative brain tumor consortium: informing the translation of new knowledge from canine to human brain tumor patients. Neuro-Oncology, 18(9), 1209–1218. doi.org/10.1093/neuonc/now051
2 Koehler, JW, Miller, AD, Miller, CR, Porter, B, Aldape, K, Beck, J, Brat, D, Cornax, I, Corps, K, Frank, C, Giannini, C, Horbinski, C, Huse, JT, O'Sullivan, MG, Rissi, DR, Simpson, RM, Woolard, K, Shih, JH, Mazcko, C, Gilbert, MR, LeBlanc, AK. (2018) A Revised Diagnostic Classification of Canine Glioma: Towards Validation of the Canine Glioma Patient as a Naturally Occurring Preclinical Model for Human Glioma. Journal of Neuropathology & Experimental Neurology, 77(11), 1039–1054. doi.org/10.1093/jnen/nly085
3 Packer, RA, Rossmeisl, JH, Kent, MS, Griffin, JF, Mazcko, C, LeBlanc, AK. (2018) Consensus recommendations on standardized magnetic resonance imaging protocols for multicenter canine brain tumor clinical trials. Vet Radiol Ultrasound, 59, 261– 271. doi.org/10.1111/vru.12608
4 Schlein LJ, Fadl-Alla B, Pondenis HC, Lezmi S, Eberhart CG, LeBlanc AK, Dickinson PJ, Hergenrother PJ and Fan TM. (2019) Immunohistochemical Characterization of Procaspase-3 Overexpression as a Druggable Target With PAC-1, a Procaspase-3 Activator, in Canine and Human Brain Cancers. Front. Oncol, 9:96. doi.org/10.3389/fonc.2019.00096
Endnotes:
[Image]: https://www.veterinarypracticenews.com/wp-content/uploads/2020/07/Holleigh-Smith_CBTC-copy.jpg
[Image]: https://www.veterinarypracticenews.com/wp-content/uploads/2020/07/Canine-meningioma-1.jpg
Source URL: https://www.veterinarypracticenews.ca/improving-the-outlook-for-brain-tumor-patients/
---