Kismet, a spry, 4-year-old Jack Russell terrier from Salt Lake City, was named Nationwide pet insurance company's 2016 Hambone Award winner for his most unusual pet insurance claim—and his heroic actions.
The dog's road to the Hambone—a road no one would want to take—began with a violent home-invasion robbery in which Kismet and his owner, Shu Li, were nearly killed.
Li arrived home early from work and was resting in an upstairs bedroom with Kismet at her side. Her husband was at work.
A burglar entered the home and was immediately alerted to Kismet's growling. The man went upstairs and began to bludgeon Li with a club as Kismet barked and bit at his ankles and lower legs.
"At first I thought someone was playing a joke on me, but then he started hitting me and I was fighting for my life," Li said.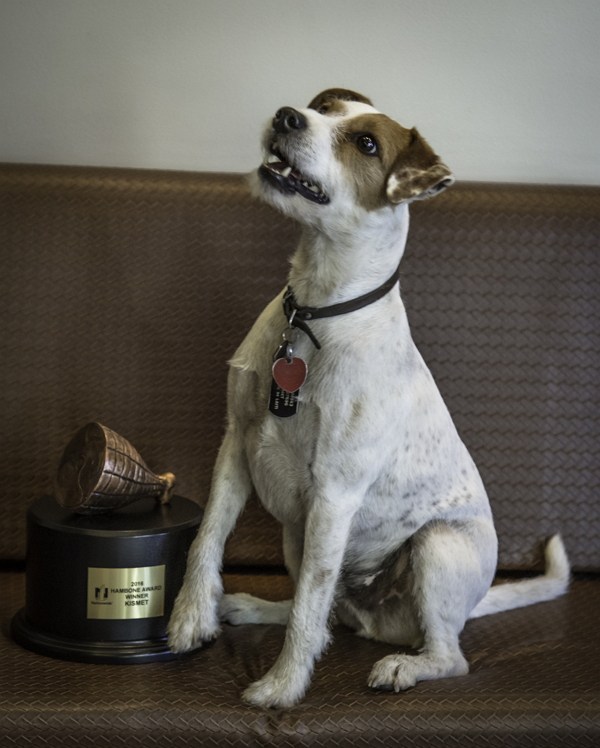 Nationwide
Jack Russell terrier, Kismet
She feigned passing out, and the perpetrator turned his attention to Kismet, still in attack mode, and stabbed the dog with a knife.
The man then chased Li as she escaped outside. Li found help, and the burglar was apprehended.
"All I could think about in the ambulance was Kismet," Li said. "I just wanted to know if he was going to be OK."
Both underwent emergency surgery and recovered.
Kismet was treated at Advanced Veterinary Care of Salt Lake City, which was awarded $10,000 for its work in saving Kismet's life.
One thing is near certain, the Brea, Calif., insurer reported: Li could have died had her Jack Russell terrier not intervened.
"The Hambone Award serves as an annual reminder of the unforeseeable dangers that can affect our pets at any time," said Carol McConnell, DVM, chief veterinary officer for Nationwide.
Kismet received a bronze trophy and a bag filled with toys, treats and other supplies.
The second- and third-place winners were:
Ludmila, a Tibetan terrier from Pittsburgh whose head became stuck in a wooden coffee table. She was taken to Pittsburgh Veterinary Specialty and Emergency Clinic.
Oso, a mixed-breed dog from La Mesa, Calif., who misjudged a leap and crashed head first into a cement barrier, shattering his snout. He was treated at Pet Emergency and Specialty Center of East County.
---
Originally published in the December 2016 issue of Veterinary Practice News. Did you enjoy this article? Then subscribe today!