Veterinary practices promoting the Pets Need Dental Care, Too campaign next month—National Pet Dental Health Month—can win $1,000. The winning clinic will also receive a free membership to the American Veterinary Dental Society and a one-year subscription to the Journal of Veterinary Dentistry.
The campaign is designed to help pet owners better understand the importance of dental care for their pets. It illustrates a three-step program for dental care:
Step 1: Take your pet to the veterinarian for a dental exam;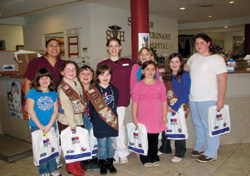 A group of community children on tour at Shaker Veterinary Hospital.
Step 2: Begin a dental care regimen at home; and
Step 3: Schedule regular veterinary checkups.
"Veterinary health-care team members should also help their clients understand that while February is the month designated to the promotion of pet dental health, ensuring proper oral care requires a year-long commitment," said Janet Donlin, DVM, chief of veterinary business channel at Hill's Pet Nutrition Inc. of Topeka, Kan., one of the sponsors. "By promoting routine maintenance they help clients prevent periodontal disease and help ensure a healthy life."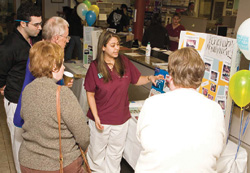 Pet-dental seminars and lectures were held for clients and the surrounding community.
The Shaker Veterinary Hospital P.C. in Latham, N.Y., won the contest the past two years. The veterinary team provided several internal lectures, gave brushing lessons to puppy pet owners who attended obedience classes, provided oral evaluations and dental kits and hosted an annual pet dental-health seminar for all clients and the surrounding community.
In addition, the team educated the public about the stages of periodontal disease and the various treatment options by creating a station in the clinic where owners could learn how to brush their pet's teeth. The team also hosted several tours for children and their parents within the hospital with a special emphasis on oral care. Their efforts generated coverage from local news outlets.
"We are constantly searching for continuing education and other opportunities to exceed the expectations of our clients as well as others in the veterinary community," said Patricia Dominguez, LVT, VTS (dentistry), of Shaker Veterinary Hospital. "Celebrating National Pet Dental Health Month provides one more way for us to challenge ourselves to offer the best oral care possible."
To enter, practices must request a free 2008 National Pet Dental Health Month Kit at www.petdental.com. The kit includes the contest entry form, tips in making pet dental health care part of the veterinary practice, client brochures, window clings, temporary tattoos and information on Hill's Prescription Diet t/d brand pet food.
National Pet Dental Month is also sponsored by the American Veterinary Medical Assn., the American Veterinary Dental Society, the Academy of Veterinary Dentistry, the American Dental College and the Academy of Veterinary Dental Technicians.