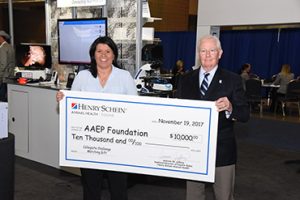 Henry Schein Animal Health, the U.S. animal health business of Henry Schein Inc., recently led a fundraising effort that raised $10,000 for the American Association of Equine Practitioners (AAEP) Foundation in support of its educational programming for the next generation of equine veterinary professionals.
Jeannie Jeffery, national director of equine sales for Henry Schein Animal Health, presented the check to Richard Mitchell, DVM, AAEP Foundation chairman, at the 63nd annual AAEP Convention held in San Antonio.
Henry Schein joined supplier partners Zoetis, Neogen, and Rood & Riddle to support the AAEP Foundation's "Collegiate Challenge," an initiative that encouraged convention attendees to make donations that support the following AAEP programs: student chapter activity; courses in dentistry, podiatry, and horses handling; and continuing education programs. Henry Schein and its supplier partners matched convention attendee donations up to a total donation of $10,000. Combined with Henry Schein and its partners' donation, the AAEP Foundation raised more than $24,000 through the "Collegiate Challenge."
"We extend a heartfelt thank you to all who donated during the convention to the 'Collegiate Challenge'," Dr. Mitchell said. "The incredible match made by our friends at Henry Schein, Zoetis, Neogen, and Rood & Riddle will allow our foundation to continue to support its mission to improve the welfare of horses through research, education, and benevolence."
Convention attendees were able to make their donation in the name of the veterinary school of their choice, and the AAEP student chapters of the top three schools received cash prizes. First place went to Texas A&M University, whose student chapter received a $750 award, followed by the student chapters at Oklahoma State University ($500 award) and The Ohio State University ($250).