Give Cathy King two hours and she can turn a Third World outpost into a bustling hub of surgical precision. Just stand back as she lays out four duffle bags full of surgery packs, stethoscopes, headlamps, catheters, anesthetics, antibiotics and, for special occasions, Beanie Babies.
As director of the nonprofit outreach organization World Vets, King, DVM, Ph.D., is an unassuming leader of a quiet revolution, one that exports free veterinary care and safe pet population control to pockets of the world where such services are needed most.
Eight years ago, when the idea to combine adventure travel with volunteer clinic work first gave rise to World Vets, Dr. King never anticipated that her trips would become so broadly popular or that she would become so widely traveled.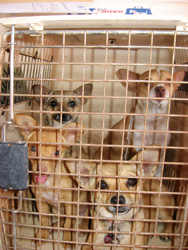 Dogs await their surgeries in Loreto, Mexico.
"If you had asked me two years ago, I would have said there was no way we would be making a trip a month," says King, who owns a small-animal practice, Hometown Animal Hospital, in Deer Park, Wash. "I hoped World Vets would grow, but I didn't anticipate so much interest so fast. A lot of people have requested us to help in their area."
Tireless Globetrotters
From a single trip to Cozumel, Mexico, the World Vets catalog has grown to include journeys to Panama, Honduras, Belize, Pakistan and Ecuador. Volunteers typically spend a week's vacation and pay their own travel expenses to work long hours in often-stifling heat.
"It may not be for everyone, but I'd do it again in a minute," says Leslie Ann Jones, DVM, who was among 15 World Vets volunteers who traveled in August to Caye Caulker, Belize. In less than a week, the team treated 325 animals, including performing 145 spays and neuters.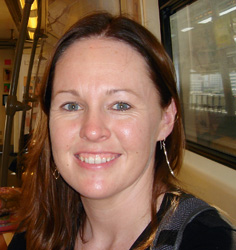 Kathy King, DVM, Ph.D.
"When anyone asks, 'How was it?' I say, 'This is why I went to vet school,' " adds Dr. Jones, of Betty Baugh's Animal Clinic in Richmond, Va. "The thing about the work that's amazing is how much I could feel exhausted and invigorated at the same time."
King knows that feeling well. It's the bond she shares with co-founder Susan Paseman, who also works at Hometown Animal Hospital, as well as with the dozens of veterinarians, technicians, students and lay volunteers who have taken World Vets trips.
"Cathy makes the trip enjoyable while also running a really tight ship," Jones says. "Despite working in Third World countries and having to deal with island politics, she and Susan do it all without batting an eye."
Adventure Can Begin at Home
Every journey has its challenges, King allows.
A case in point: A recent Honduras trip featured a group flight out of Houston on the day Hurricane Ike was projected to hit. King scrambled to move up their plans, and all but one traveler made the last flight out before the airport closed.
"I always tell people it will be a better trip if you consider getting there as part of the adventure," King says. "The good part is you usually end up with a good story to tell."
One of the good parts for King is the camaraderie that develops in the MASH-style, do-whatever-is-needed work atmosphere. Another is the chance to affect more than just the lives of the animals treated.
World Vets also works to end the use of strychnine poisoning as a population-control measure and to change the general belief that unwanted animals lead disposable lives.
How disposable?
"In Belize, it's common to take cats out and drown them in the ocean, to take puppies and throw them in the pit where the saltwater crocodiles live," King says. "Obviously, we want to see these practices end, and to see care for animals become ingrained in the culture. We figure a good place to start is with the kids."
That's where the Beanie Babies come in. King and others pass them out to draw children to sessions on how to care for animals and treat them with respect.
"In many cases (children) were the ones bringing the dogs in for treatment," Jones says.
Mostly Work and Some Play
King tries to ensure that participants get all they want out of each trip, including at least one day to experience the exotic locale. For veterinary students, it's a chance to learn from seasoned professionals and sometimes do surgical procedures for the first time.
Even volunteers with no veterinary training can end up assisting in the OR.
Nancy Sherertz, 59, of Easton, Md., made the Belize trip with her two adult daughters, none of whom have veterinary training. The three women monitored animals in recovery and rounded up strays, but they also prepped animals for surgery and administered vaccinations.
"For me, it was part adventure travel, part mission and part Outward Bound experience," Sherertz says. "It reinforced the point that you honestly don't know what you're capable of until you're called upon to do it."
Click here to read more about World Vets and see photos of other trips.