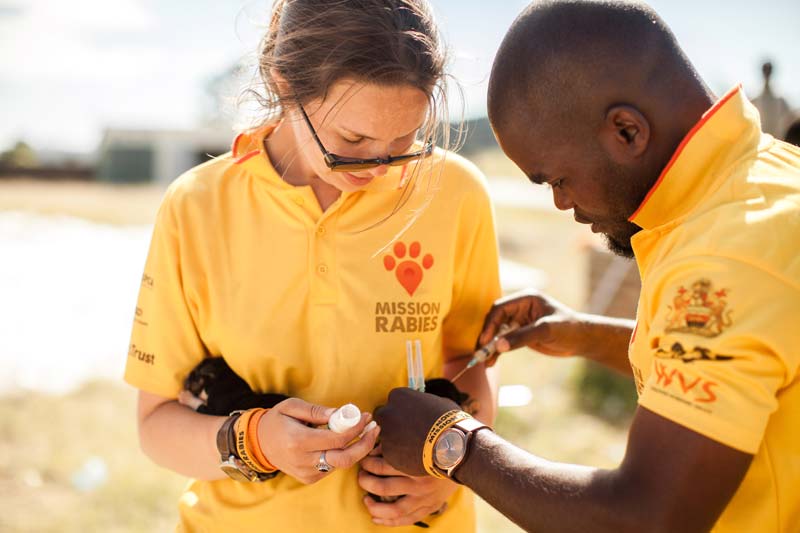 Two animal health organizations are collaborating on a One Health-inspired joint action plan to eliminate dog bite-transmitted rabies.
The World Small Animal Veterinary Association (WSAVA) has signed a memorandum of understanding (MoU) with Mission Rabies, a U.K.-based charity.
Under the agreement, the association has been named an observer of the International Rabies Taskforce (IRT), which assists international governments in the planning and development of cost-effective rabies elimination strategies by providing practical expertise and guidance.
WSAVA has a long-standing informal working relationship with Mission Rabies, primarily by way of fundraising efforts through the association's charitable organization.
"WSAVA and WSAVA Foundation have worked closely with Mission Rabies over several years, and rabies control is a key element of the work of our One Health Committee and Vaccination Guidelines Group," says WSAVA's honorary treasurer and Mission Rabies' trustee, Michael Day, BSc, BVMS (Hons), PhD, DSc DECVP. "With launch of IRT, it is an opportune time to formalize our relationship so we can work together to maximize the involvement of our small animal veterinary community in this major global push to eliminate canine rabies."
The IRT, along with the World Health Organization (WHO), the World Organisation for Animal Health (OIE), the Food and Agriculture Organization (FAO) of the United Nations, and Global Alliance for Rabies Control, strive to eliminate human deaths due to canine-mediated rabies deaths by 2030.
"The veterinary community plays a crucial role in global rabies elimination," says Frédéric Lohr, DVM, MRCVS, global operations officer for Mission Rabies. "Our partnership with WSAVA enables veterinarians to actively participate in the fight against this horrible disease."