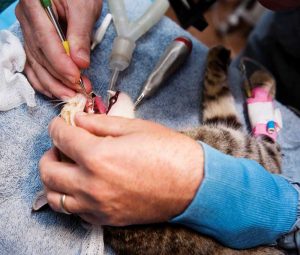 Advances in veterinary medicine sometimes don't come in a pill, but rather a shift in perspective. That seems to be the case when it comes to dental care for dogs and cats. Over the past few decades, growing awareness among veterinarians and pet owners about the importance of good oral health for companion animals—combined with clinical advances, better instruments, and more home dental care options—is brightening the dental health outlook for pets.
Today, doting, information-savvy pet owners are more interested in their pet's dental health than in past years, says Katherine Kling, DVM, a clinical instructor of dentistry at the University of Illinois College of Veterinary Medicine.
"It's more common now for people to know they can take care of their pet's teeth the same way they care for their own," she adds.
According to the American Veterinary Dental College (AVDC), periodontal disease affects almost all dogs and cats. In fact, by age three, most exhibit signs. The Banfield 2016 State of Pet Health report found 76 per cent of dogs and 68 per cent of cats have dental disease. These numbers are based on its analysis of medical data from the 2.5 million dogs and 500,000 cats treated at its facilities. Further, Banfield found dental calculus is the most common condition diagnosed among pets.
Dental problems cause pain, chewing difficulties, and tooth loss. Further, periodontal disease is associated with systemic health problems. For example, a 2008 Journal of Veterinary Dentistry study found the extent of periodontal disease was positively associated with the likelihood of the dog to have heart, liver, and lung damage, while a Veterinary Quarterly study determined treating periodontal disease in cats lowered markers of systemic infection, including immunoglobulin G (IgG) serum and eosinophils levels.
A more proactive approach
Veterinarians today have access to more resources and information on pet oral health than in years past, notes AVDC president Barden Greenfield, DVM, DAVDC. The topic is being taught in more depth in veterinary schools, he says, and conferences like the Veterinary Dental Forum (VDF) are broadening veterinarians' knowledge of animal dental issues.
This increased knowledge, in turn, is prompting many veterinarians to recommend cleanings and radiographs to pet owners starting when their animals are only a year or two old, rather than waiting until the pet is older and has developed dental disease. In other words, the goal is to be proactive, instead of reactive, Dr. Greenfield says.
Brushing is still the standard
Part of that proactive approach is encouraging pet owners to regularly brush their pet's teeth, although most pet owners do not.
A 2016 Canadian survey commissioned by Royal Canin and conducted by the market research firm Ipsos found only six per cent of cat owners and 15 per cent of dog owners brush their pet's teeth daily or a few times a week. Interestingly enough, 80 per cent of dog owners and 84 per cent of cat owners strongly agreed or somewhat agreed brushing their pet's teeth was important for their pet's dental health.
"It's as simple as that. Brushing needs to be done," says Brenda Mulherin, DVD, DAVDC, a clinical associate professor at Iowa State University College of Veterinary Medicine. "And I do think more people are brushing their pet's teeth."
Although nothing can take the place of regular brushing, a plethora of dental chews, treats, water additives, gels, sprays, and wipes are available for pet owners to supplement dental care for their animals. However, sifting through the array of products available to determine which ones will truly help can be daunting for vets and pet owners alike.
That's why dental veterinarians recommend pet owners look for products accepted by veterinary organizations.
A proactive approach to animal dental care also means educating pet owners on the importance of regular dental cleaning under anesthesia so the veterinarian can perform a thorough oral examination and clean beneath the gum line. That's especially important at a time when more pet owners are pressing their veterinarians to perform dental cleanings without anesthesia or are taking their pets to groomers who also scrape teeth.
Fear of putting their animal under anesthesia and concerns about the cost of a dental cleaning are why pet owners are interested in anesthesia-free alternatives, explains Dr. Mulherin.
However, that's not an effective alternative for removing plaque beneath the gum line or assessing thoroughly the animal's oral health, say veterinary dental specialists.
"[It's like] washing a car without looking at the engine and saying your car is in great shape," Greenfield says.
While teeth scrapings between annual cleanings might be a helpful adjunct, it can't take the place of cleanings under anesthesia, he adds.
More advanced instruments
Advances in instruments to clean and repair teeth are also improving dental care for dogs and cats, say veterinary dental specialists.
Digital radiography, which has become increasingly popular in veterinary practices over the past decade, is faster and provides better quality of images, making it easier for veterinarians to diagnose dental problems, Greenfield says.
"It's like looking at a tricycle and then a Ferrari," he adds, comparing the difference between a film and digital image.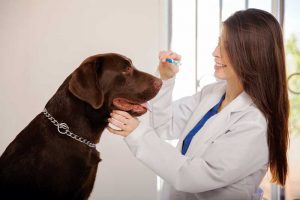 Digital radiography has made it easier for veterinarians to diagnose and treat tooth reabsorption in dogs and cats, Mulherin says.
Ultrasonic scalers have become more sophisticated over the past several years, enabling vets to clean an animal's teeth with less stress to the teeth and gums, while enhancements like LEDs and magnification features make it easier for vets to see inside the animal's mouth, Greenfield adds.
In addition, materials for crowns have become more durable and cements are stronger, he notes, making crowns a more feasible option for companion animals with cracked or broken teeth.
"The advent of hybrid composites has allowed the dentist to place a durable restoration on a tooth with a better chance of staying on than in years past," Greenfield explains. "Also, better bonding agents are helping a lot."
Dental sealants are further helping to mitigate periodontal disease in dogs and cats by making the tooth surface under the gum line slippery and less hospitable to plaque development, says Dr. Kling.
Regrowing jawbones
Strides have also been made in caring for dogs with jawbone loss due to injury or disease. The University of California Davis School of Veterinary Medicine pioneered a technique for regenerating jawbone using bone growth protein. In this technique, developed by veterinarian surgeons Boaz Arzi, DVM, DAVDC, and Frank Verstraete, DrMedVet, DAVDC, a collagen and ceramic scaffolding is infused with bone morphogenetic protein and attached to titanium plates affixed to the dog's remaining jawbone. Over the course of several weeks, the protein stimulates the generation of new bone tissue, which gradually grows to fill in the missing piece of jawbone.
The surgeons have performed about 36 bone regeneration procedures since 2012, and it's now considered a standard treatment, says Rob Warren, UC Davis School of Veterinary Medicine's communications officer.
Stem cell therapy for treating gingivostomatitis
Advances are also being made in using stem cells to treat the painful condition of feline gingivostomatitis. This severe gingival inflammation is commonly treated with steroids or by extracting the cat's teeth to remove the source of oral bacteria. A team of researchers at the UC Davis School of Veterinary Medicine has conducted studies investigating the effectiveness of using stem cells to treat severe feline gingivostomatitis. In a study using autologous mesenchymal stem cells, five out of nine cats demonstrated clinical remission or significant improvement, while in another using allogeneic mesenchymal stem cells, four out of seven cats improved considerably.
As dental therapies for companion animals continue to advance, veterinarians need to be an advocate for the oral health of their furry patients, Greenfield says. Their knowledge and enthusiasm for pet oral health influences how pet owners view the importance of dental care for their animal.
"If the vet is passionate about dental care, the owner will see it and believe it," he adds.