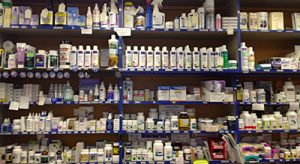 Running a veterinary hospital is no easy task—managing staff, client experience, finances, and marketing, not to mention delivering quality medical care to patients, are top of mind. In general, inventory management gets pushed aside.
Having managed veterinary hospitals large and small, I certainly understand how inventory can be neglected. During my career, the priority in managing inventory was to keep the hospital stocked, with little regard to controlling costs. If we ran out of a medication or a product, I would get an earful.
Over the past five years, veterinary medicine has changed. The cost of goods, overhead expenses, and, especially, wages are increasing at an unstainable rate. Minimum wage laws and "living wage" campaigns across the county are touching every aspect of veterinary medicine. These costs will continue to rise.
Human healthcare went through a similar transition two decades ago. The answer to reducing costs was process improvement. Today most large healthcare systems have invested in Lean, Six Sigma, or some other form of Kaizen (continuous improvement) programs. The veterinary industry would be wise to follow this lead.
Although change is difficult, the good news is human healthcare has already started this journey. Most of the methods, processes, and ideology have already been explored and implemented across the industry with great success. These processes can bring value and efficiencies to our practices, staff, clients, and most importantly, our patients. All we need to do is follow the lead and modify.
When costs go up, managers have three options:
Increase fees
Reduce profits
Reduce expenses by becoming more efficient
When you consider all the options, the best value to your clients, patients, your staff, and your business is option three. You will go out of business pursuing options one and two. A major way to reduce your costs and become more efficient is by controlling your inventory and the hidden cost you incur managing it. Managing inventory should be viewed the same as managing cash. Every item on your shelves represents cash. If your "cash" is not working for you, it is wasted.
There are many costs associated with inventory. The raw costs of the items, the cost of storing, stocking, spoilage, wastage, managing, and reordering. Many of these costs are in the form of staff wages to manage these tasks. If we focus on reducing inventory costs, we should look at all costs throughout the supply chain. Let's examine these areas one by one.
Raw costs
Often, we think our costs of supplies and medications are set, like shopping at the grocery store. In some cases this is true; however, there is room to negotiate. Distributors and manufacturers may be willing to offer discounts in exchange for order commitments or exclusivity agreements.
If you think you are too small or aren't comfortable negotiating with distributors or manufacturers directly, join a group purchasing organization (GPO). A GPO leverages the purchasing power of a group of member businesses to obtain discounts from vendors. GPOs are ubiquitous in human healthcare; most facilities belong to large GPO's that negotiate on their behalf. There are several veterinary GPOs that provide discounts on veterinary specific items. Large human healthcare GPOs are entering the veterinary market with discounts from flooring to rooftop air-conditioning units and everything in between. Who would have thought a solo practitioner from rural America could have the same purchasing power as some of the largest human healthcare systems in the country?
Almost all of the large veterinary consolidators belong to GPOs. Why? Because even with their robust purchasing power on veterinary specific items, they are small in comparison to tens of thousands of human healthcare facilities.
Agreements with vendors such as Verizon, Office Depot, BD, Baxter, B Braun, UPS, and hundreds more have already been negotiated for human healthcare facilities. Many of these items and services transcend human/veterinary practices. Small, privately owned veterinary practices can take advantage of these same discounts. The cost to join a GPO is minimal to free.
Storing and stocking inventory
There is a fine balance between just-in-time inventory and running out of items. In general, we tend to concentrate on avoiding the latter. This can be costly on multiple fronts.
The cost of overstocking supplies and medications is not limited to the raw costs of the items but the time and space it takes stocking and storing the items. Storage space is considered "nonrevenue" generating space. If we can turn nonrevenue space into revenue-generating space, we will not only reduce our inventory costs, but also open opportunities to add services or treat more patients.
Housing large amounts of inventory also can create more work when looking for and retrieving supplies—especially if they are tucked away in closets, cabinets, or storerooms. This also can lead to losses due to spoilage or worse—accidentally using expired products on patients.
Managing and re-ordering supplies
Most veterinary hospitals still manage their inventory by hand. This usually entails a staff member physically looking at products throughout the hospital, creating an order list, reentering the items into various distributor or manufacturer's websites, receiving the items, crosschecking the invoice, and so on. Many systems can help reduce the time spent storing, stocking, managing, ordering, and receiving supplies.
Cubex, Pyxis, Omnicell, and others offer digital solutions. Many distributors or third-party vendors also provide digital systems to help you manage your inventory through bar code scanners or even smartphone apps.
Some of these systems can be costly. Alternatively, you can implement Lean, Six Sigma, or other inventory control methods within your hospital that help manage your inventory relatively inexpensively.
The first step is to establish minimum and maximum stocking par levels based on usage and your vendor's ability to deliver each item. Next create a reorder system using a Kanban system, reorder cards, or a two-bin system that minimizes on-hand inventory and ensures replenishment is mechanized, intuitive, and timely. There are many examples of these methods on YouTube. Search "inventory Lean Kanban in Healthcare."
As veterinary medicine evolves, we must evolve with it. Tactics that may have worked in the past may not work in the future. The antidote to increasing costs is process improvement. This will take time, effort, training, and a willingness to change. Future managers will need to work on their practices implementing new methods just as much as they work in their practices delivering quality, compassionate medical care to patients.
Art Arnaiz, LVT, director of the veterinary program at Intalere group purchasing organization, is certified in advanced Lean training. He is former hospital administrator of Seattle Veterinary Specialists and a former board member of the Veterinary Specialty Practice Alliance. Contact him at art.arnaiz@intalere.com.