From elimination diets to hydrolyzed foods, novel proteins to Chinese therapy, many tools serve the quest to identify and treat food allergies in pets.
But in the end, doesn't solving the riddle of a pet's allergic reactions really come down to the uncertainties of trial and error?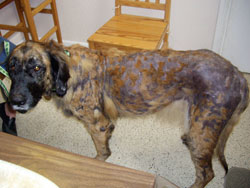 Hana, a 7-year-old female Leonberger, was presented to Dr. Signe Beebe in March. Hana was covered with bald patches and sores caused by constant scratching. Beebe treated her using food therapy, Chinese herbs and acupuncture.
"I prefer the term 'therapeutic trial,' " says Paul Bloom, DVM, Dipl. ACVD, ABVP (canine and feline specialties). "With such trials in human medicine, aren't you guessing?"
Whatever the terminology, practitioners and pet owners alike agree that the road to a food allergy solution can be twisty and trying. The end place is often a special diet designed to curb the inflammation, itching, biting and scratching that are the telltale signs of allergic reaction.
Finding the most effective diet can take more diligence and detective work.
"What's so difficult is that people, including veterinarians, want answers right now," says Dr. Bloom, owner of the Allergy, Skin and Ear Clinic for Pets in Livonia, Mich. "So multiple things are tried at the same time, then we can't figure out what works and what doesn't."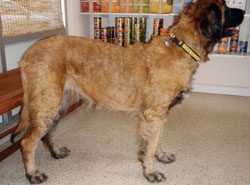 Hana in early July. The dog received no conventional medications—no steroids, cyclosporine or antibiotics, Beebe said. She recommends diets that are for the most part grain-free. Hana next will be weaned off herbs and acupuncture.
Look at Other Possible Causes
Determining that a dog or cat even has a food allergy isn't a slam dunk, practitioners say. Bloom's "gut feeling" is that of the pets coming to his clinic because of allergic reactions, 5 to 10 percent are experiencing food-allergy symptoms.
Often the problem is a flea allergy or a reaction to environmental or airborne allergens, he says.
Still, pet owners share lots of stories about adverse reactions to foods—especially those with additives, preservatives and colorants, says Karen Rhoads, a certified nutritional consultant for more than eight years.
Rhoads also is a sales territory manager for Evanger's Dog & Cat Food Co., which offers a line of game-meat diets that provide alternative sources of protein, a key to an effective elimination diet and often a long-term food-allergy solution.
Rhoads says one of her clients is a woman who oversees the grooming at a big boarding facility in Northern California. Her fox terrier mix had scratched all its life, even when fed a home-cooked mixture of chicken and rice.
Rhoads suggested a game-meat diet, starting with rabbit.
"The goal is to keep the dog stable for a few weeks, then pull in another meat," Rhoads says.
Following up with a phone call, Rhoads learned that the client had advanced to incorporate a vegetarian diet. The dog was no longer itching.
"I find that the more tuned-in the owners are to their pets, the more willing they are to work on the problem and the more success they tend to have," Rhoads says.
In her clinic, Signe Beebe, DVM, tries to get clients to adopt a holistic, integrative approach to curb allergic reactions. She is a certified veterinary acupuncturist and herbalist who applies the principles of Chinese food therapy.
"Food allergies are a strictly conventional medical term," says Dr. Beebe, whose clinic is the Integrative Veterinary Center in Sacramento, Calif. "In Chinese medicine, we look at all the components of a diet—the energetics of the food and how they cause pruritis.
"At least 50 percent of all the animals we see need to have some type of food therapy to adequately cure or manage their disease, especially dermatological."
Beebe often sees patients with severe itching and fur loss who have already been diagnosed with a food allergy. Conventional medicine sees protein as the main problem, she notes, but the Chinese perspective puts at least as much emphasis on the grain component of a diet.
'Cooling' and 'Heating' Foods
Following Chinese theory, Beebe looks at foods' energetics, or their effect on the patient's metabolism. To combat dry, itchy skin, she seeks "cooling" foods such as fish, turkey or duck and avoids "heating" meats such as lamb or venison.
"From an integrative perspective, we try to formulate diets that are specific for the individual dog or cat," Beebe says.
That integrative approach means she doesn't automatically remove a patient from medications such as corticosteroids or antibiotics.
"With one hand I use conventional medicine, and with the other Chinese medicine," she says. "If it's safe and effective, I will use it because my animal patients need it."
Elimination Diets
Beebe and Bloom both use elimination diets to diagnose food allergies. From Bloom's perspective, it's the only way, explaining, "Blood tests for food allergies are absolutely a waste of time and money."
A key to an effective elimination diet, he says, is to ensure "that nothing else gets into the pet's mouth but the selected food and maybe unflavored medications."
Once an allergen is identified, Bloom prefers a therapeutic diet to remove the possibility of client confusion.
"By selling it, I have control," he says.
He favors novel proteins and hydrolyzed diets—proteins broken into pieces so small that, the theory goes, the body doesn't recognize them as allergens.
The dermatologist also sees the benefits of game meats in providing "a source of protein the pet has never had before."
In Sacramento, Beebe often couples food therapy with acupuncture treatments and herbal medications. She also lectures widely on how superior dietary ingredients not only aid with allergies but promote overall good health.
"Diet is the first thing to think about, no matter what you're treating," she says. "Hippocrates said, 'Let food be your medicine,' and I'm the first to espouse that."
This article first appeared in the August 2009 issue of Veterinary Practice News