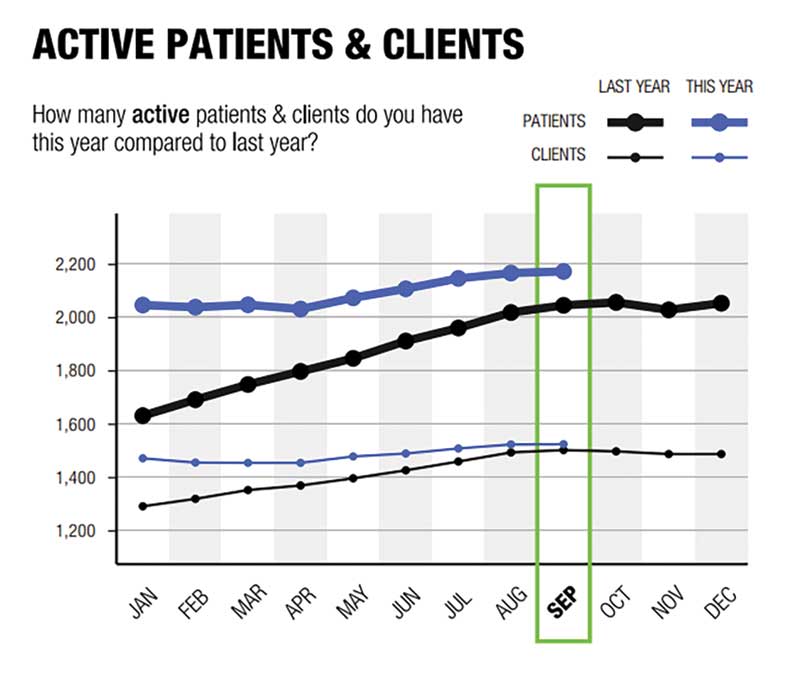 When most veterinary staff members consider key performance indicators (KPIs), they often think about long reports with seemingly endless columns of numbers and dashboards filled with colorful charts and graphs, and all the work involved to compile those reports. They do not usually think about the data behind those KPIs, what it can reveal about the practice itself, and how their practice management software can help make the compilation easier.
KPIs have always been crucial in running any business, including veterinary practices, but perhaps never as important as right now. Clinics are understaffed and busier than ever. When they take advantage of the most important data measuring practice health, though, they can increase efficiency, and better determine what is behind the current trends in the industry. This is the power of KPIs. They help practices understand if they are headed in the right direction and can help shift attention, if needed.
When it comes to KPIs, your practice management software can be your best friend. KPIs and software work hand-in-hand to help you access data more quickly. To save even more time, your software likely has the ability to integrate with analytical services, which pulls data from your software and generates calculations and reporting in seconds. This increases efficiency and helps you make informed decisions about your practice.
To get the most out of your KPIs, we recommend being strategic about the ones you use. When practices measure everything feasible, they generally cannot do anything with the information because they are drowning in data. If you don't have the ability to take action based on what you learn, then maintaining KPIs will be a futile exercise. Choosing the right KPIs based on your specific goals at any given time is vital to success. What specifically do you want to achieve this month or quarter? What matters most to you and to your clients?
If you need help deciding which KPIs are best to track, here are five we find particularly beneficial for veterinary practices.
1) Revenue breakdown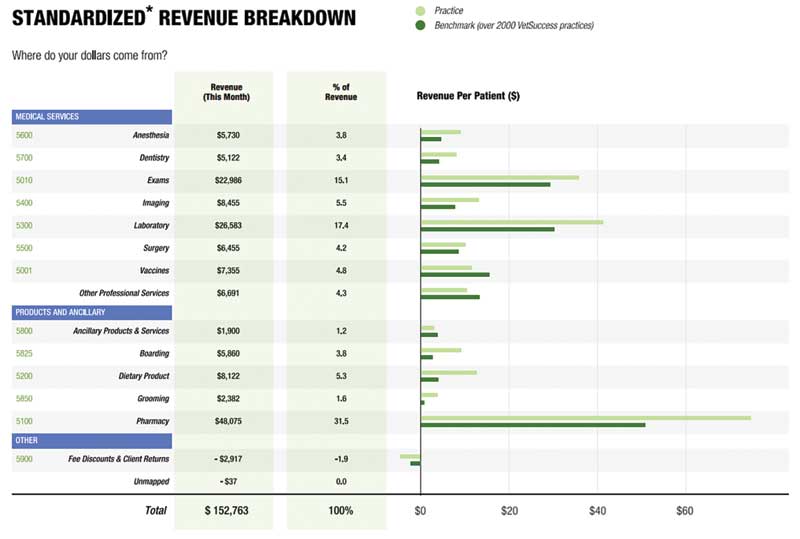 It makes sense for practices to measure total revenue. While it is always helpful to see how much money is coming into the practice, it is far better to specifically understand the source of this money. When you better understand where the revenue is coming from, you can ensure you and your staff are spending adequate time and resources in those revenue-generating areas.
Ensure each transaction is captured appropriately in your software so you can pull accurate revenue data by category. This is a great starting point for understanding where your revenue comes from. In addition, with an integrated metrics service, you can also benchmark your practice against others in your area.
2) Profitability
As with any business, a veterinary practice's revenue only encompasses one portion of the overall financial picture. It is equally important to analyze expenses. For example, your costs for inventory, payroll, and rent could have increased (and they likely have over the past year). Without looking at expenses and resulting profitability, it is difficult to determine how your practice is faring.
To better understand profitability, run your inventory, payroll, and all other expenses through your software and compare it to your revenue for the same period. Determine how profitable the practice has been, track it over time, and make adjustments as needed. Inventory costs are especially important to track in this manner, as we have unfortunately seen some practices selling products for less than they paid for them.
3) Customer behavior: Forward booking
Without clients bringing in their pets, veterinary practices would not be in business. In most instances, it is far easier to keep a current client than get a new one. Are you setting up your practice for success in this area? Forward booking is a great KPI to use to track success. Dental offices are great at forward booking. If they can do it, veterinary practices can, too!
We recommend talking to your staff, as they are on the frontlines of the client experience. Are they asking clients if they can book their next appointment as they check them out? Do they understand why they should do so?
Setting goals with the staff to increase forward bookings and then measuring results within your software is a great way to keep those clients coming in regularly.
4) Patient activity
Another KPI that provides a wealth of information to measure practice health is the number of active clients and patients. This tells you how many clients and patients you are actively seeing each month. Over time, it can tell you if your base is shrinking or growing, regardless of the number of new clients and patients you may be attracting.
While many practices will track new patients each month, this alone is not enough, because inevitably, some clients and patients do not return. Only by comparing these two metrics can you truly ascertain if your practice is growing.
There are really two ways to track this KPI. Using just your software, you can track new patients each month and compare against inactive clients each month. Alternatively, you can use an integrated analytics service to automatically calculate this metric for you, trending over time.
5) Compliance data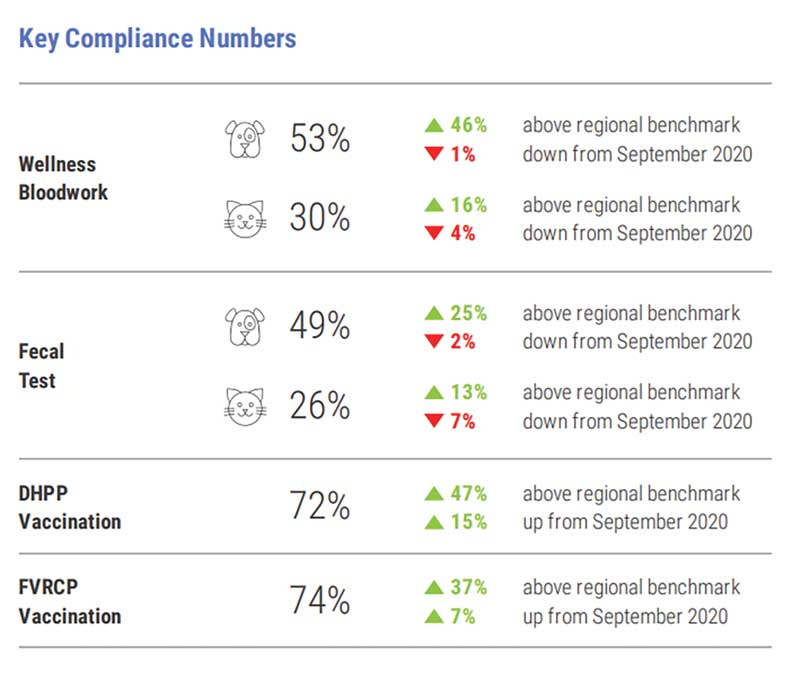 Veterinarians can give all the advice in the world, but if the client does not listen or take the necessary actions, the patient is the one that suffers. This is especially true with preventative care. Measuring compliance involves matching output data with individual clients to determine what percentage are actually doing what you have recommended.
Indeed, this KPI provides critical insights into your practice. Tracking compliance by doctor may show who is more effective at getting their clients to take action, while tracking it by wellness service can show which areas could benefit from additional educational campaigns.
Depending on how robust your software is, this output data is likely contained within it. You could take your production data, match it with clients, and manually convert it into compliance data. However, the process can be time-consuming. Integrating your practice management software with an analytics service will not only make the process seamless, but also much faster.
These KPIs provide an enormous amount of information for your practice, but what really matters is knowing how to use them and having easy access to them. This is why practice management software, combined with a data analytics integration, can make the entire process more efficient.
KPIs are much more than just numbers or visually appealing charts. They empower you to make more informed, data-driven decisions. It is about what matters most to you in your practice at any given time, understanding why these metrics are important based on what you are trying to accomplish, and being ready to take action. Just as you measure the health of your patients, KPIs provide an invaluable tool to help you measure the health of your practice.
Lisa Jones is a software product manager with Patterson Veterinary, responsible for NaVetor cloud software and IntraVet. She works with veterinary practices to guide the vision for both software platforms and has held prior roles with Patterson in customer support.
Kate Zirkle is a marketing manager with VetSuccess, a subsidiary of Vetsource and the veterinary industry's leading provider of practice performance reports, dashboards, and automated marketing solutions. She is based in Cleveland, and is a lifelong animal lover.