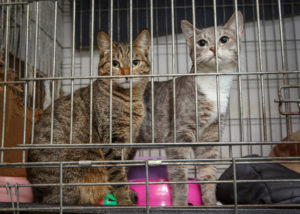 Rescued animals can now enjoy a less anxious shelter experience thanks to a new Fear Free initiative.
The Fear Free Shelter Program is a free computer training course designed to help staff members and volunteers of animal shelters, rescue groups, and other animal welfare organizations to create a Fear Free experience for pets from intake to adoption and beyond. In addition, it provides resources adopters and foster homes can use to promote the emotional well-being of the pets in their care and ease the transition to a new environment.
"We created the Fear Free Shelter Program to improve the experiences of animals by educating shelter personnel about the emotional needs of dogs and cats," says Veterinary Practice News Canada columnist Marty Becker, DVM, founder and CEO of Fear Free. "This program will empower them to apply key concepts, strategies, and techniques designed to reduce the negative emotional states that are commonly experienced by shelter animals, including fear, anxiety, stress, and frustration."
Brenda Griffin, DVM, MS, DACVIM, is lead author of the Fear Free Shelter Program. She is also co-instructor of courses in shelter medicine and animal behaviour at both the University of Florida and the University of Georgia. Three board-certified veterinary behaviorists with extensive backgrounds in shelters and shelter medicine contributed to the program's development.
To learn more about Fear Free and sign up for the Fear Free Shelter Program, visit www.fearfreeshelters.com.